CURATOR'S CHOICE SM
Museums and Exhibitions in New York City and Vicinity
| Home | | Museum Guide | | International | | Architecture & Design | | Theater |
GLENN LONEY'S MUSEUM NOTES
CONTENTS, July 2006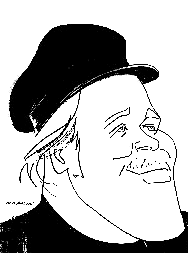 Caricature of Glenn Loney
by Sam Norkin.
Please click on " * " to skip to each subject in this index:
Maryhill Museum in Washington State: *
Queen Marie of Roumania, Sam Hill, *
Alma de Bretteville Spreckels, & Loïe Fuller *
Work Together To Create Astonishing Museum-Chateau *
On Rolling Hills of The Columbia River Gorge! *
At the Metropolitan Museum of Art: *
GIRODET: Romantic Rebel *
RAPHAEL'S COLONNA ALTARPIECE: *
Dispersed Panels Together Ågain After 250 Years! *
At the Frick Collection: *
JEAN-ÉTIENNE LIOTARD: Swiss Master (1702-1789) *
At the Jewish Museum: *
EVA HESSE: Sculpture *
At the New York Public Library for Performing Arts: *
BENI MONTRESOR: From Color To Light *
At the Istituto Italiana di Cultura: *
HOUSE OF FLOWERS/HOUSE OF STARS: *
Beni Montresor's "Picture Books" *
At the Dahesh Museum: *
NAPOLEON ON THE NILE: *
Soldiers, Artists, and the Rediscovery of Egypt *
At the Museum of the City of New York: *
THE HIGH STYLE OF DOROTHY DRAPER *
At the Guggenheim Museum: *
ZAHA HADID: Thirty Years in Architecture *
NO LIMITS, JUST EDGES: *
Jackson Pollock Paintings on Paper *
At the Museum of Modern Art: *
DOUGLAS GORDON: TIMELINE *
DADA *
HERZOG & DE MEURON: *
Artist's Choice—Perception Restrained *
At the Cooper-Hewitt National Design Museum: *
CHURCH, HOMER, & MORAN: *
Tourism & the American Landscape *
NATIONAL DESIGN AWARDS 2006: *
At the New-York Historical Society: *
GROUP DYNAMICS: *
Family Portraits & Scenes of Everyday Life *
HISTORICAL FICTIONS: *
Edward Lamson Henry's Paintings of Past & Present *
NATURE AND THE AMERICAN VISION: *
The Hudson River School at the New-York Historical Society *
LEGACIES: Contemporary Artists Reflect on Slavery *
At the Whitney Museum of American Art: *
FULL HOUSE: Sampling the Permanent Collection *
At the Brooklyn Museum of Art: *
GRAFFITI: Pop Art or Not? *
At the American Museum of Natural History: *
LIZARDS AND SNAKED: ALIVE *
At Madison Square Park: *
URSULA VON RYDINGSVARD: *
Madison Square Art 2006 *
CERTIFICATES OF MERIT 2006: *
Muni Art Society's Annual Awards at New Morgan Library Complex *

Maryhill Museum in Washington State:
Queen Marie of Roumania, Sam Hill,
Alma de Bretteville Spreckels, & Loïe Fuller
Work Together To Create Astonishing Museum-Chateau
On Rolling Hills of The Columbia River Gorge!
[Open 15 March through 15 November/Daily 9 am to 5 pm]
Queen Marie of Roumania Still Reigns at Maryhill: Photo-Portraits of Queen Marie and with Royal Children-Future King Carol at right. Photo courtesy of Maryhill Museum.
In the Jazz Age 1920s, Queen Marie of Roumania was a dazzling, glamorous figure in International High Society. Descended from Queen Victoria, educated in England, summering in Russia with her Romanov Cousins, she was married to the Crown Prince of Roumania, and sent off to a country she had never before seen.
But Marie soon learned the language, and—like Empress "Sissi" of Austria, with the Hungarians—she soon took a deep and abiding interest in the lives of her people, especially in the peasants and their distinctive culture and arts.
So it would seem only natural that her personally-designed Throne-Room Furniture & Regalia—including her Throne & Crown—would be on display in the National Museum of Bucarest.
But NO! The full suite of this elegant golden furniture is only to be seen at Maryhill Museum, far up the vast reaches of the Columbia River Gorge, on the Washington State side of the great Columbia River.
How Marie's magnificent Golden Robe for the Coronations of Cousin Nikki—Tsar Nicholas II—and of her cousin King Edward VII came to be displayed in the immense chamber of what was intended as a remote poured-concrete Beaux Arts Chateau in a visionary Quaker Farming Community is worth a book in itself.
Your scribe is between planes—from Ashland Shakespeare in Oregon to the Munich Opera Festival—so there's no time to outline this fascinating story. The museum has, however, a handsome catalogue with excellent photos of its creation & remarkable collections: Maryhill Museum/$14.99/no tax in WA!
Quaker Visionary Sam Hill—who was the driving-force behind the building of the Columbia River Gorge Highway, as well as the great Pacific Highway, which now stretches from Alaska to Chile—wanted to establish an idealistic farming settlement on some thousands of acres he owned in the desolate rolling hills of the Gorge's upper reaches.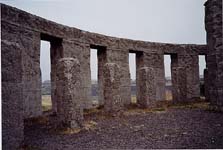 Sam Hill's Stonehenge: High above Columbia River, copied from Druid Original. Photo by Glenn Loney.
His Dream failed, but not before he'd built a replica of England's Stonehenge—as a World War I Memorial—and a series of Loop-Roads to test new methods of highway-construction and surfacing.
Sam also began construction of an impressive chateau—a smaller-scale Versailles—like his Stonehenge, made entirely of poured-concrete. Rather like the Doylestown Fonthill Castle & Museum of another visionary, Henry Chapman Mercer.
Both ends of the noble edifice were flanked by grand sloping ramps, designed so guests could drive their Bugattis and Rolls-Royces right into the central chamber to dismount.
Today, the room is filled with Queen Marie's boldly designed Throne-room furniture, plus paintings of Tsar Nicholas, Queen Marie, and her great friend, Alma de Bretteville Spreckels—married to Adolph Spreckels, the West Coast Sugar-Magnate.
Alma, Sam, and another Visionary American, the first really modern Modern Dancer, Loïe Fuller, had become friends during World War I, joined in their efforts to get relief to war-torn Roumania. This forged a life-long bond with Queen Marie.
In financial difficulties, Sam Hill was unable to continue work on his chateau. "La Loïe"—as she was known in Paris, where she was something of a Modern Goddess—suggested he make it into a museum instead.
And she and Alma and other friends—such as the famed sculptor Auguste Rodin—would help to fill it with treasures. Adding to the notable collections of Native American baskets and other Indian artifacts Sam had created.
Alma and her generous husband had already created a San Francisco replica of Paris' Palace of the Legion of Honor as the French Pavilion for the 1915 Panama-Pacific Exhibition. In 1923, they remade it in permanent materials on a bluff in Lincoln Park, where it is now part of the SF Museums Complex.
A great admirer of Rodin's works—introduced to the Spreckels by Fuller, who was a close friend of the sculptor—Alma stocked the Legion of Honor with The Thinker and other masterpieces, as well as casts and sketches. Loïe Fuller's image is among them, as she is at Maryhill.
Other collections include some notable Salon Paintings that would not be out of place in Manhattan's Dahesh Museum. There is also an impressive collection of Historic Chess-Sets. Columbia River Meets Fifth Avenue!
To dedicate the new museum-building in 1923, Queen Marie came—via private train, with a Court Retinue of some 68—to Maryhill, her Royal Progress across the United States reported daily in the press.
Her Royal Highness must have been very surprised when she arrived at the desolate site on the Columbia River, for it was only an uncompleted Empty Shell, its potential collections still in storage. Her old friend, Sam Hill, had experienced severe financial reverses. And his Quaker Community was never to be realized…
Nonetheless, Queen Marie put on a brave face, releasing some Carrier-Pigeons to spread the news of the [potential] new museum, and wishing her old friend Sam Hill very well. Unfortunately, the 1929 Crash did not improve matters…
There must be a Major Motion-Picture in the story of this Unusual Four-Way Friendship, anchored by the glamorous persona of the Queen of Roumania…
For your scribe, the biggest surprise was to discover that the 1946 Théâtre de la Mode miniature stage-sets—with mannequins in the latest Parisian High Fashions—were the property of Maryhill, a gift of Alma Spreckels. I had first seen these remarkable creations at the Metropolitan Museum in 1990. There are several sets of these models, often on tour from Maryhill!
When you take a West Coast Holiday—especially if you are going to Ashland's excellent Oregon Shakespeare Festival—do plan a trip to Maryhill. It will be an astonishment, even after the overwhelming majesty of the great basalt-pillar mountains of the Columbia Gorge.
[For more information: Phone: 509-773-3733/email:
At the Metropolitan Museum of Art:
[Closing 27 August 2006]
"Portrait of the Artist" by Anne-Louis Girodet-Trioson. Photo courtesy of the Metropolitan Museum of Art.
Several critics have suggested that Anne-Louis Girodet-Trioson is a second-tier French painter, emerging in the Napoleonic Era from the Neo-Classicism of his mentor, Jacques-Louis David, to embrace both Romantic & Sentimental Visions that do not qualify as major artistic achievements. One reviewer even called some of the quasi-Historical and/or Mythological canvases Kitsch…
A finely drafted sketch for such a subject as St. Louis Welcoming Louis XVI and the Royal Family to Paradise—or the large allegorical painting of Ossian Receiving the Ghosts of French Heroes—in some sense support this. But such works also demonstrate Girodet's mastery as a draftsman and skilled painter.
One of the reasons the Met has given this extensive retrospective so much space and promotion, it has also been suggested, is that the Met—like many other major museums—is digging ever deeper into the archives & storage-vaults of Art History to find new names for Blockbuster Exhibitions.It is true that some of Girodet's studies for major canvases seem rather cluttered and confused: The Revolt of Cairo is one. Most of the canvases on view, however—and especially the vivid portraits—are strongly yet subtly composed and executed with a superb technical skill.
Whatever you may think of Girodet's Sleep of Endymion, you may well admire his Portrait of Citizen Jean-Baptiste Belley—a noble Black gentleman, the Portrait of Chateaubriand—also known as Man Meditating on the Ruins of Rome, and Girodet's charming Portrait of the Artist.
None of these paintings would be out-of-place at the Dahesh Museum in the IBM Building on Madison Avenue, where Salon Painting is almost always the exhibition-focus. But Girodet—as presented at the Met—was hardly a strict Academician: hence the tag: Romantic Rebel.
In the entry-chamber to the show are several Classically-Themed Girodet scenes. One of them is the first painting on view in The Da Vinci Code, as the camera pans through the Louvre late at night. It might be especially interesting—after you have seen the film and then visit the Met—to study that noble painting.
Dispersed Panels Together Ågain After 250 Years!
[Closing 3 September 2006]
"Madonna and Child Enthroned with Saints" by Raphael. Photo courtesy of the Metropolitan Museum of Art.
If it has taken 250 years to re-unite the components of a famed Raphael Altarpiece, you might well think that the exhibition-curators would have reserved a high-ceilinged—even noble—chamber for displaying the re-assembled Masterpiece.
But NO! At the Metropolitan Museum, the seven elements of the so-called Colonna Altarpiece are shown on two adjoining walls of a low-ceilinged room, often used for photographs and sketches.
It is, of course, impressive to see the great centerpiece of the Madonna and Child Enthroned With Saints, the pedimental lunette of God the Father Blessing, With Angels and Cherubim, and the smaller paintings of the Predella so closely.
But it has long been possible to study closely the lunette and the centerpiece at the Met, for they were a gift of J. P. Morgan, Jr., whose Magnate Father bought them for some $9 million. Four of the five elements of the Predella have been loaned to the Met for this exhibition.
There are diagrams and photos to suggest how the original was configured when it was installed in the Perugian Convent of San Antonio di Padova in 1504-05. But this is not the same as beholding the entire work in its primal majesty in the great hall where the Met's Neapolitan Christmas-tree is annually set. Could not this have been arranged?
To enjoy this effect—even in somewhat diminished scale & brilliance—your scribe had to see it twice reproduced in toto in The New York Sun, no less!
The good nuns of San Antonio had to sell the elements of their altarpiece in 1663 to pay debts, among them a butcher's-bill. The Colonna Family once owned the major pieces, hence the traditional name, but they have also been the property of Queen Christina of Sweden, the Duc d'Orleans, and Baroness Burdett-Coutts.
Other paintings by Raphael and contemporary sketches are also on view.
JEAN-ÉTIENNE LIOTARD: Swiss Master (1702-1789)
[Closing 17 September 2006]
"Prince Henry Benedict Stuart (1725-1807) and Prince Charles Edward Stuart (Bonnie Prince Charlie, 1720-1788) by Jean-Etienne Liotard. Photo courtesy of The Frick Collectio.
If France's Girodet was largely unknown in New York, prior to the Met's current show, the genius, charm, and skill of Switzerland's Jean-Étienne Liotard were even less well known.
But now—thanks to loans from Geneva's Museums of Art & History and private Swiss collectors—a very impressive selection of his paintings, sketches, and miniatures is on view at the Frick. This is, in fact, the first time most of these attractive works have been seen in the United States.
Of necessity—because the Frick's two basement galleries are rather intimate—the exhibition is small-scale and of relatively small paintings and sketches. But Liotard was such a brilliant draftsman & striking colorist that even his miniatures are compelling in their detail and suggestion of Truth To Life.
Liotard was a Realist long before the term came into critical use. He painted what he saw, without artistic flourishes or patron-friendly "improvements." This dismayed some celebrated sitters for his portraits, but he was unsparing, even of himself. The genially grinning self-portrait that is the virtual-logo of the Frick exhibition shows him missing a tooth, with wrinkles and all…
Liotard traveled widely in Europe—an entrepreneurial-success wherever he wandered. He spent some time in Constantinople, where he affected Turkish Garb and painted Turkish men & women in their distinctive costumes. This made him known as "The Turkish Painter."
At the Moldavian Court of Jassy, he adopted the long beard favored by the nobles. This also became part of his exotic image. Until he married and had to shave it off…
Indeed, Liotard's personal life, wanderings, and interactions with noble and wealthy patrons are almost as interesting as his artworks.
Among the many treasures in this show are a series of delicate pastels Liotard made of the Imperial Austrian Children of Empress Maria Theresa. Virtually every hair and details of their skin, eyes, and teeth are clearly rendered…
[Closing 17 September 2006]
Eva Hesse in her home/studio at 134 Bowery, New York, 1965. Photographer unknown. Photo courtesy of Hauser & Wirth, Zurich, London.
Some may find the mature works of Eva Hesse—now on display at the Jewish Museum—puzzling, rather than dazzling. But Hesse was working out of the Minimalist Aesthetic, increasingly employing in her often repetitive sculptures what were, in effect, Industrial Materials, such as Latex and Fiberglass.
As some of these substances are Translucent—when not Opaque or Transparent—varied sources & qualities of light playing upon them can enrich & enhance their visual impact. The seemingly-endless repetition of basic forms in some works also adds to their Mystique.
Hesse regarded the varied properties of Light as "part of the anatomy" of her last works.
Among the 35 sculpture-constructions on view are Hesse's Several, Compass, Sans II, Repetition Nineteen III, Aught, Connection, Schema, and, of course, that most ubiquitous of Modern Art Titles, Untitled.
The artworks are on loan from a number of Major Museums and Private Collections, as Hesse's vogue has grown over the years. Especially since her too-early-death in 1970, as there obviously could be no more new works to purchase.
Hesse's life-story is almost as interesting as her art—though somewhat different than that of Switzerland's Liotard [see above]. Still, it would have been most interesting to see how she might have developed had the her Life been extended.
At the New York Public Library for Performing Arts:
BENI MONTRESOR: From Color To Light
[Closing 16 September 2006]
Photograph of "Le Streghe di Venezia" [The Witches of Venice], designed and directed by Beni Montresor.

It isn't quite right to say—as some critics have—that the late Beni Montresor had the vision of a child, or that he was somehow Childlike.
At the festive opening of the current Lincoln Center NYPL Performing Arts retrospective of Beni's colorful and ingenious designs for theatre & opera-settings and costumes—as well as for book-illustrations—his brother, Ferdinando Montresor, was more accurate: He said that Beni was "as curious as a child."
Your scribe first met Beni Montresor at Gian-Carlo Menotti's Charleston Edition of his Italian Spoleto Festival. Beni was busy putting finishing touches on a major show of his designs, many of which are now on view at the Cullman Center galleries of the Performing Arts Library.I found him to be both delightfully charming and very intelligent: like meeting an old friend and Opera-buff! He also proved very knowledgeable about opera-librettos and—even more important—their musical-scores.
Beni made clear that he was not only visualizing the characters and their environments onstage, but he was also listening carefully to their music, in order to help visualize their emotions and conflicts through his magical sets, costumes, and lighting.
Beni Montresor designed for most of the world's major opera-houses: the Met, Covent Garden, La Scala Milano, Teatro Colon, Grand Théâtre de Genève, Teatre del Liceu, the Paris Opera, Glyndebourne, the SF Opera, the Houston Grand Opera, Teatro alla Pergola, and the Arena di Verona, among others.
Monstresor-designed productions represented in this show include Vanessa, The Last Savage, La Gioconda, Esclarmonde, Turandot, & The Magic Flute. He also designed four Broadway productions, including Rags, Marco Millions, and Do I Hear a Waltz?
At the Istituto Italiana di Cultura:
HOUSE OF FLOWERS/HOUSE OF STARS:
Beni Montresor's "Picture Books"
[Closing 20 September 2006]
Although Beni Montresor is best-remembered as the brilliant designer of colorful opera-settings and costumes, he began his career in New York as an illustrator of children's books. As vivid use of color and fantastic imagination were the hallmarks of his art, these pictures have been justly compared with the images of Marc Chagall and Maurice Sendak.
Soon winning major citations for such books as Mommies at Work, Belling the Tiger—a Newberry Honor Book, and May I Bring a Friend?—the 1965 Caldecott Award, Montresor also won commissions to design major opera-productions, including some of those of his longtime friend, Gian-Carlo Menotti.
Before long, Montresor was writing the texts of the books he was illustrating. And turning his opera-designs into children's books as well.
Now some of his most striking book-illustrations are on show on Park Avenue at the Italian Culture Institute. At the opening—as at the NYPL Lincoln Center gala—DVD's of quasi-animations of Montresor's illustrated tales were on view. [These can be purchased.]
Among the tales with animations of Montresor's original images are Bedtime!, May I Bring a Friend?, The Birthday of the Infanta, The Happy Prince, Little Red Riding Hood, and Hansel and Gretel.
These animations are most ingeniously achieved. They'd make a charming birthday gift for a child who loves fantasy, art, and music…
Soldiers, Artists, and the Rediscovery of Egypt
[Closing 3 September 2006]
Flushed with Italian Victories, General Napoleon Bonaparte set out for Alexandria to conquer Egypt for France, free its backward people from oppressive Mameluke Rule, block Britain's ease-of-access to the Middle-East & India—and, much more important culturally and historically, to survey its ancient & modern structures, its geography, botany, its commerce, customs, and all else of interest.
Defeated by Admiral Horatio Nelson at the Battle of Aboukir, Plague in Jaffa, and the disastrous Siege of Acre—one of which, centuries before, also ousted the Knights Templar—Napoleon returned to France, leaving his generals to surrender.
But his great achievement—from an even greater Enlightenment Vision, not just one of Imperialism—was his deployment of a small army of experts—including artists and historians—to document all that was to be found in Egypt, especially the ancient monuments along the Nile.
Thus, the Louvre Museum acquired many of its Egyptian Treasures.
And the engravings & color-plates of the Antiquities and the detailed information published in the multi-volume Déscription de Égypte that Napoleon commissioned was to launch the pervasive Orientalisme Craze that endured for a century. "Egyptomania" was a more immediate fad.
But these massive volumes also influenced generations of explorers, scientists, painters, novelists, photographers, architects, designers, & decorative-artists.
Currently, major engravings from this great work and bound volumes of the Déscription are on view at the Dahesh Museum, which has its own magnificent Salon paintings in the grand tradition of Orientalisme.
Also on view is Jean-Leon Gérôme's impressive portrait of Napoleon in Egypt, left hand leaning on his sword, with great mosque-domes in the distance.
Among the Egyptian Discoveries was the famed Rosetta Stone, the long-sought key to deciphering Hieroglyphics, thanks to its Greek text, translating the ancient Egyptian picture-alphabet. France's Champollion decoded it—and he lies buried in Paris' Père Lachaise Cemetery. But the actual stone is now in the British Museum. Not the Louvre.…
At the Museum of the City of New York:
THE HIGH STYLE OF DOROTHY DRAPER
[Closing 10 September 2006]
The customarily sedate Neo-Georgian entrance-hall of the Museum of the City of New York is currently a riot of florally-themed color. It seems to have been papered-over with greatly enlarged replications of the boldly Deco-era wall-papers of the brilliant designer, Dorothy Draper.
An entire gallery—and the hall leading to it—are packed with photos, furniture, fabrics, and decorative objects recalling the heyday of this influential Socialite Taste-maker.
Not only did Dorothy Draper win national attention with her stunning designs for Hampshire House & the Carlyle in Manhattan, the Drake in Chicago, the Greenbrier at White Sulphur Springs, and Arrowhead Springs Resort in California, but she was also the author of best-selling books on Interior Design.
Draper also designed the Met Museum's Roman-Court restaurant, now being transformed into an atrium-gallery for Greek & Roman sculptures. She lent her fashion-sense to the design of the 1952 Packard, as well as to airplane-interiors and the International Hotel at Idlewild Airport—now called JFK.
Her design-aesthetic for interiors often combined exaggerated echoes of the Baroque with Beaux-Arts, to achieve a frequently striking Art Deco Effect. The same kind of Larger-than-Life borrowings of Period Styles made her furniture and decorative-objects seem themselves Outsize: Just right for Hotel Foyers and Manisions of the Stars and the Very Rich & Smart.
With no formal training—but with good Social-Connections—Draper was one of the first of a New Breed of American Women Style-setters and Entrepreneurs. She well understood the importance of cultivating a Professional Persona and powerful Images for her designs.
Draper also built a Home-furnishings Empire, though some of the magnificent Commodes and Consoles now on view on Upper Fifth Avenue would have looked quite out-of-place in a modest home in Levitttown.
Indeed, Dorothy Draper's wall-papers, furnitures, and bold interiors—especially in photos from her prime as a designer—look more suited for Hollywood Movie-Musical settings. So Draper and her designs fell out of favor in the 1950s.
But the Draper Look has been making a come-back. It is just right for Post-Modernist architectures. Michael Graves & Dorothy Draper would be a Marriage Made in Designer-Heaven!
ZAHA HADID: Thirty Years in Architecture
[Closing 25 October 2006]
The new Zaha Hadid exhibition at the Guggenheim is one of the most densely-packed ever to cram its great Frank Lloyd Wright Rotunda and the Chas. Gwathmy Annexes. It is amazing—even daunting—how many striking building-models and design-objects have been deployed up & down the great Rotunda Spiral Ramp!
This can pose a problem for visitors who are really interested in architecture and in closely examining how Hadid has proposed—and often solved—challenging design-projects. Some of the models jut out into the ramp's passageway, so it can be awkward to push past a group hunched over to look inside the tiny windows of a Hadid model.
Because most of the projects are so unusual and imaginative—and the small-scale models are often intricate in their details—you may well want to arrive at the museum early to avoid the great crowds the show is drawing.
Not so long ago, Zaha Hadid was—like Peter Eisenmann, Daniel Libeskind, and Raimund Abraham—largely famous as an Innovative but Unbuilt Architect.
In earlier Hadid shows—on view in Europe—your scribe was amazed at the daring of her visions. Computer-Imaging, it seemed, could draft three-dimensional marvels that would defy most modern construction-methods.
Fortunately, if it can be imagined by an architect with a sophisticated Computer-Program, there are also Construction Contractors who can devise ways to build such projects. The Sydney Opera-house, designed by Jørn Utzon, for instance, could not be constructed directly from his designs. Engineers & technicians had to figure out new ways to realize his Vision.
Hadid has said that her ambition is "to realize theoretical projects that seem difficult at the time." But the real First Step—after her designs and models have been completed—is to find a patron who wants to make the project reality.
Initially, this was a major problem, as most of her proposals were so unconventional: Airports, Car-Parks, Factories, Traffic-Arteries, Fire-Stations, Ski-jumps, & Bridges just did not Look Like That!
Now, however, a number of major projects for such constructions have been completed to Critical-Acclaim and User-Satisfaction. Models and photos of some notable Hadid projects are on view at the Guggenheim.
Innsbruck's soaring Bergisel Ski-Jump is one of the most breath-taking of these achievements. Also impressive—and closer to home—is Cincinnati's Rosenthal Center for Contemporary Art, completed 2003.
Curiously, this narrow rectangle of a museum—with a broad front on a major avenue and a much smaller side-exposure at the corner intersection—looks much better at night. By day, it is a stark, brooding presence.
When your scribe toured it recently, he was surprised at the often awkward configuration of some of the gallery-spaces. Libeskind's Jewish Museum in Berlin came to mind: as though the internal spaces were, in effect, Negative [Empty-Space] Sculptures.
Nonetheless, Zaha Hadid is clearly a major new force to be reckoned with. Santiago Calatrava and Renzo Piano: Watch your rears & arrears! There are rich & powerful patrons—corporate, civic, and private—out there who want what's on the Cutting-Edge.
Hadid certainly is now very much There, after some years of being only On the Verge…
Jackson Pollock Paintings on Paper
[Closing 29 September 2006]
When Jackson Pollock was an art-student—like generations of student-artists before him—he sketched sculptures and paintings from Masterpieces. His sketchbooks from those days are very impressive: his sensitive interpretations of these illustrious models suggest What Might Have Been. But that may also have been the influence of Thomas Hart Benton as a Mentor.
The current Guggenheim display of some intermediate Pollock Works on Paper—on the way to his fully-blown, or Overblown, Drip & Spatter style—offer some transitional information & evidence. The exhibition-title refers to Pollock's penchant for drawing or painting to the outer edges of his surface—suggesting that the drawing was part of a larger Visual Universe.
Actually, Pollock preferred to think of his works on paper as Paintings, rather than sketches or drawings. The Guggenheim show presents some 70 of the known 700 Pollock paper-works.
This small-scale exhibition begins with Figurative Images, moving on through two further developments to his Mature "Pouring" Techniques. Along the way, there are hints of Kandinsky, which may have been influenced by his connection to Patroness Peggy Guggenheim.
Although almost any scrap of Pollock's studies or sketches can command Big Money at Art-Auctions, the works on show are not all that memorable. In Pollock's case, Death seems to have been the Ultimate Career-Move. That ghastly auto-crash necessarily put a Definitive Limit to his production.
[Closing 4 September 2006]
The ever-increasing Vogue of Video-Art is more & more pre-empting valuable museum exhibition-space, which could be more effectively used for display of Real—rather than Virtual—Works of Art.
Instead of a spacious white chamber with powerful Modernist paintings & sculptures on display, such handsome spaces are now frequently divided into dark cubicles for the presentation of some odd & often amateurish Video-Constructs that might get a C at NYU Film-School.
Australian Douglas Gordon's Timeline combines the Video-Concept with Art-Appropriation. Which is not the same thing as Art-Appreciation…
Not just one big gallery, but an entire suite of rooms on MoMA's Sixth Floor have been blacked-out for the projection of immense movie-images on free-standing and wall-fixated screens. The free-standing screens have the advantage that the images can be viewed from both sides: You can now look at an Elephant from Two Points of View!
At the MoMA Press-Preview, there was the added benefit of Accidental Art! When celebrated art-critics walked past these screens, their shadows were combined with the movie-images!
Of course Gordon has not been at all random in his ransacking of Cinema-Archives for suggestive or Iconic-Footage. His 24 hour Psycho plays Alfred Hitchcock's classic thriller almost frame-by-frame, so that the 109-minute film takes twenty-four hours to loop back to its beginning! Wow!
Also reprised—or appropriated—are girlhood scenes from The Song of Bernadette and The Exorcist. These are central to the artistic-effect of Gordon's Between Darkness and Light (After William Blake).
That there is more than a little Pretension about some of Gordon's titles, is of a piece with the curatorial explanations of the Significance of His Art.
[Closing 11 September 2006]
Wasn't there once a Cabaret with a song-parody on the order of My Heart Belongs To Dada? Or was that one of Tom Lehrer's satiric lyrics?
Had Tristan Tzara known Mary Martin & Broadway Musicals, he might well have included in his own Dada shows a series of satirical Dadaist Broadway Nonsense-Spin-offs.
But then again, maybe not, considering the Euro-Centric Self-Absorption of the leading Dadaists. And the Time-Frame would have been wrong: not that such inconsistencies would have troubled André Breton or others of this Merry Crew
Not all Dadaists were Visual & Textual Jesters, however. In Berlin, George Grosz's savage caricatures pilloried the Prussian Establishment and all the venal characters—Munitions-Makers, Prostitutes, Generals, & Spiessburgers—who had plunged Europe into the disasters of The Great War.
For New Yorkers—and Art-Informed Americans, in general—one of the most Iconic Dada Artworks is that upended ceramic Urinal that Marchel Duchamp signed, but not with his own name.
When the Dada show now at MoMA was down in DC, some critics complained that it seemed to have too much Text. That's an odd objection, as much of interest in Dada involved manipulation of texts into nonsense, or nonsense-texts into exercises in Type-Fonts and letter-sizes.
Not to overlook all the various Manifestos announcing Dada—or trying coyly & obscurely to Non-Define it. And, even when it was an Emerging Novelty, there were already serious critics ready to issue Talmudic Commentaries.
Considering its relatively Brief Life, it may seem surprising how much has since been written about Dada, its unique times, its founders, its modes & methods, and its varied subsequent Influences. Which continue to resonate, and not only because of the Urinal and that vertical Bicycle Wheel.
In the current MoMA installation, there is not only a profusion of texts—including explanatory wall-texts—but also closely-hung text-graphics. In fact, there are also so many Iconic Artifacts crowded into the assigned galleries that viewing on busy days is both difficult and irritating.
Many of the objects on view are familiar to MoMA regulars—and they are also now almost Art History Clichés in illustrated surveys.Some 50 artists are included, with over 400 works, including collages, photo-montages, films, readymades
This exhibition makes a useful visual & organizational point by emphasizing the six major cities where Dada made a mark on the Cultural Consciousness: Berlin, Hannover, Paris, New York, Zürich, and Cologne,—the City of Scent, made famous by its Cathedral and 4711: Echt kölnisches Wasser!
Among the famous Dadaists represented are Max Ernst, Hannah Höch, Kurt Scwitters, Francis Picabia, Man Ray, Hans Richter, Hans Arp, John Heartfield, and, of course, Duchamp.
[For the Record: The savagely satirical anti-Nazi collagist Heartfield is buried in East Berlin in the Protestant Cemetery, not far from Bertolt Brecht, Helene Weigel, and Anna Seghers!]
Artist's Choice—Perception Restrained
[Closing 25 September 2006]
The French may be popularly known as "Cheese-Eating Surrender-Monkeys," but what trite-but-true Moniker can be bestowed on the Cheese-Making Swiss? How about "Alp-Isolated Money-Changers"?
Swiss Flavor-of-the-Moment Architects Jacques Herzog & Pierre de Meuron must certainly have been doing a lot of money-changing recently, as the Prestigious Commissions roll in. Switzerland, it may be remembered, is not a member of the European Union, not is the Euro its currency.
One of the duos' recent but costly successes—expnsive for the Citizens of San Francisco, not for the designers—is the new De Young Museum in Golden Gate Park. This is a sister-museum to the California Palace of the Legion of Honor, a benison of Alma de Bretteville Spreckels—who also was a great patroness of Maryhill Museum [see above] on the Columbia River!
Although often invited out to San Francisco to inspect the new De Young—named for the late Michael H. De Young, once the proud publisher of the SF Chronicle—your scribe has been too busy checking-out New York City exhibition-venues to make the journey.
One such venue was MoMA, where the possibly malicious handiwork of Herzog & De Meuron is currently more or less On View. There may be some submerged—or inferred—malice in their Artist's Choice: Perception Restrained showcase.
In fact, this has been the major theme of a number of critical appraisals of their Sterile, Murky, & Constricted Installation. The reason being that they were among the Finalists in the competition for re-designing MoMA. But they were passed-over—if not outright-rejected—in favor of a Japanese architect!
As part of an Ongoing-Series—involving artists invited to choose works from MoMA's vast collections, as a unique Personal Expression of each artist's Quirks & Tastes— Herzog & De Meuron were asked to Do Their Design-Thing.
If the resulting Black Chamber is any indication of how they would have re-conformed the Museum of Modern Art, Director Glenn Lowry, Patroness Agnes Gund, and Influential Others were well-advised to look toward Japan, rather than toward "Old" Europe.
Actually, this chamber in no way resembles their overall vision for a new MoMA. So it may well suggest a kind of Ingenious Revenge: But one taken on the General Public, as well as the Museum's guardians.
What they have done is to insert into the relentlessly black walls of the chamber some long, narrow slits, through which closely-crammed, or hung, artworks—most of them Iconic & Famed MoMA Treasures—can be awkwardly-viewed at severe angles, while would-be spectators push & shove to get near the glass-windows to peer in. Until they are elbowed-aside by others in the teeming MoMA Crowds…
The visual-contents of the few apertures are selective by type or genre, rather than by style or theme—as are MoMA's traditional methods of displaying its Permanent-Collection Masterpieces and lesser artistic-achievements.
So here are examples of Modern Design, all in a row. And there are some paintings, photos, and drawings, almost frame-to-frame. Viewing is deliberately made more difficult—and possibly tantalizing—by having the interior white-box-exhibition-spaces extend beyond the widths of the Long Narrow Slits.
Wow! Talk about Design-Concepts! Or Getting-Even with MoMA…
Most of the middling-sized All-Black chamber is filled with rows of simple black bench-forms. Small round apertures spaced along these seating-surfaces project Filmic-Snippets onto the black ceiling, fortunately studded with small white screens for viewing these Iconic Images. It's a Cute Idea, if you do not already have Back-Problems or Sciatica…
Previous Artist-Choosers in this series have included Chuck Close, Ellsworth Kelly, and Stephen Sondheim, no less! But not Stephen Spielberg…
As Pixar's John Lassiter was recently on hand, explaining new visual ideas beyond Nemo and Cars, maybe he could be invited to Choose?
Or how about Channeling Dead Artists? Diane Arbus, for a start?
At the Cooper-Hewitt National Design Museum:
Tourism & the American Landscape
[Closing 22 October 2006]
"Sunset Across the Hudson Valley, New York" by Francis Edwin Church. Image courtesy of the Cooper-Hewitt, National Design Museum.
The ingenuity of the title of the Cooper-Hewitt's new show of some seldom-seen 19th Century American Paintings lies both in the way that it enables curators to take some handsome—but not major—canvases out of the vaults for public-viewing and to theme them in an intriguing and informative manner.
Unquestionably, Thomas Moran, Frederic Church, and Winslow Homer are major American painters, but some of their most famous canvases are on view in other venues, such as the Met and the Brooklyn Museum of Art.In fact, Church's silently thundering torrents of greenish, foaming water, rushing over Niagara Falls, should aesthetically be in this show, rather than in its central position in the American Galleries of the Brooklyn Museum.
But part of the point of this exhibition is to use artworks and design-artifacts from the Cooper-Hewitt's own collections. More importantly, these Minor Treasures serve the larger purpose of demonstrating how the originals and prints of the American landscapes of Homer, Moran, and Church helped introduce Americans to previously unknown but beautiful and often impressive locales—with great potential for tourism and summer-vacations.
Thanks to its own Natural Majesty, Niagara Falls became The Honeymoon-Destination, but Church's visions certainly helped!
These three artists, of course, were not the only American talents to depict great Natural Wonders, especially in the Far West and Southwest, but Thomas Moran was among the most important of them. Even foreign artists, such as Nahl and Bierstadt, became famous for visions of Yosemite and other Western sites.]
To emphasize the Tourism-Connection with landscape and genre-paintings, hotel and railway-brochures are included in the show, as well as blue & white china-platters with views of Niagara and other scenes. There are also 3D stereopticon-photos and early Thomas Edison films of such sites.
Among the landscapes and peopled-scenes are images of the Hudson Valley, the Catskills, the Adirondacks, and the White Mountains. Nor are Yellowstone or the Grand Canyon overlooked.
Across Central Park—at the New-York Historical Society—there is also currently an impressive exhibition of land- & river-scapes along the length of the Hudson River. It may not have been envisioned as a pendant or a complement to the Cooper-Hewitt's show, but it certainly serves that purpose handsomely.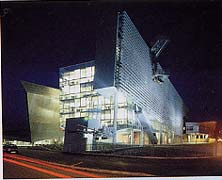 The Hypo Alpe-Adria-Center in Klagenfurt, Austria designed by Thom Mayne/Morphosis. Photo by Kim Zwarts.
The Winners won't receive their Awards—let alone their "just-desserts"—until a Cooper-Hewitt Gala Dinner in mid-October. Laura Bush is the Patroness of this year's edition of the annual National Design Awards, so it will be interesting to see if she brings her husbund…
Perhaps to drum up a little curiosity about the event—the Seventh, this year—Paul Warwick Thompson, the Cooper-Hewitt's director, announced the winners in June. Originally, the Awards were launched as a project of the White House Millennium Council, so it's appropriate that they are now the province of the Cooper-Hewitt, which is, of course, the National Design Museum of the Smithsonian Institution.
[Will Congress also authorize a Faith-based National Intelligent-Design Museum? Just asking…]
This fall, there will not only be Awards, Speeches, & Expensive Dinners at the Cooper-Hewitt, but also a new National Design Week. The over-arching purpose of this week—and its lectures, discussions, & workshops—is to "promote better understanding of the role that design plays in all aspects of our lives."
Just in case you hadn't already noticed that…
No, seriously! Many people do not notice such things in daily-life. And their TV-prone, Cell-phone-slave, Internet-nerd, and/or iPod-addict children are even less aware.
They may know all about Intelligent-Design, but that is not the focus of the Cooper-Hewitt's Design Week, even though it's often said that GOD IS IN THE DETAILS!
The major-focus is on providing teachers nationwide with lesson-plans demonstrating how Design-Thinking and the Design-Process influences our lives and, specifically, how these two facets of Design can enhance teaching of all subjects.
[They could also try some related & integrated classroom Theatre-projects—which can work very well and are usually more interesting and student-involving—but, hey!, the the Cooper-Hewitt is not a Theatre School, is it?]
Anyway: The Awards! This time around, not only designers, but also Design-Patrons and Design-Commissioning Corporations will be honored.
The Awards announcement features vivid photos linked to each award-winner. Here are the Winners for 2006:
Paolo Soleri—Lifetime Achievement. [With the never-ending, on-going work—including casting of bronze bells for sale to curious visitors—on his Arcosanti "City of the Sun" project near Scottsdale, AZ, Soleri has certainly proved himself an Epic Visionary and a Dedicated Designer.]
Paola Antonelli—Design Mind.
Craig Robins—Design Patron.
NIKE—Corporate Achievement.
Thom Mayne—Architecture Design.
2x4—Communications Design.
Maria Corneo—Fashion Design.
Michael Gabellini—Interior Design.
Martha Schwartz—Landscape Design.
Bill Stumpf—Product Design.
Plus a Special Jury Commendation for Syd Mead!
At the New-York Historical Society:
Family Portraits & Scenes of Everyday Life
[Closing 17 September 2006]
Over the years, trustees & patrons of the New-York Historical Society—as well as heirs of great city & state estates—have given vintage artworks and artifacts to the museum. Some seem to have emptied their closets, as well…
Fortunately, most of the paintings, sculptures, antiques, books, posters, and other oddments are not only of high quality, but also of real historical value for students and, indeed, any proud New Yorkers.
Among the holdings are a number of distinguished portrait-paintings, as well as portrait-miniatures, and even Daguerreotypes, or "tintypes."
Group Dynamics offers portrait-images from the Colonial through the Federal to the Victorian Era. Notable is Charles Willson Peale's crowded canvas, featuring The Peale Family—with ten faces shown, not counting that of The Family Dog!
Spanning a century of American Portraiture, the exhibition is divided into six-thematic sections: Image & Narrative, The Social Landscape, Society Gender & Class, Family Ties: Defining the Self, Fictions of the Pose, and Life-Out-of-Doors.
Among the notable groups are Asher B. Durand's The Durand Children, Gustave Le Gray's Eugene Livingston with Children, and Eastman Johnson's Negro Life at the South/Old Kentucky Home.
And there's a Mathew Brady Daguerreotype of The Hurlbutt Boys!
Edward Lamson Henry's Paintings of Past & Present
[Closing 6 August 2006]
Parlor on Brooklyn Heights of Mr. and Mrs. John Bullard by Edward Lamson.
You surely have seen pictures or photos of those revolving-cages, powered by Demented Mice or Desperate Squirrels? They don't seem to generate electricity, but they do provide the Thoughtless with casual amusement.
But one of Edward Lamson Henry's genre-paintings in the Historical Fictions show reveals a very practical application of the Revolving-cage Concept: it shows a dog running around in vertical circles, apparently powering a well-pump. [Or was it a Dog on a Treadmill? Similar Concept…]
Another Lamson Henry canvas features a handsome early Steam-Locomotive and coaches. The point of this exhibition, however, is that these images are not direct visual-testimonies of Contemporary Victorian America, but rather the Past Recollected in Relative Tranquility. As with other New-York Historical Society shows, this is artfully divided into sections—five, in all: History Lessons: The Civil War; Uncertainty in the Age of Rail; Historical Documentation, Preservation & Re-Creation; History & Social Definition, and Nostalgia & Obsolescence.
Born in the South, Lamson Henry was raised in New York City and later studied in Paris with Gustave Courbet. Back in New York in the Tenth Street Studios, he became a well-known figure among local artists. Later, he centered his life & work on Cragsmoor, an upstate Artists Colony he helped found.
Although there are only some 21 paintings & drawings on view, they are so special in their views of Our Lost Past—and technically so well-executed—that these images are well worth a trip to the Society's handsome Beaux Arts building, just across the street from the American Museum of Natural History!
NATURE AND THE AMERICAN VISION:
The Hudson River School at the New-York Historical Society
[Closing 25 February 2007]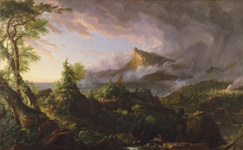 "The Course of Empire (The Savage State)" by Thomas Cole.
This exhibition should be seen in tandem with the Cooper-Hewitt's CHURCH, HOMER, & MORAN:
Tourism & the American Landscape, although there appears to have been no collusion between curators in planning these related shows.
In fact, although limited to one Scenic American Area—unlike the nation-wide spread of the Cooper-Hewitt's installation—Nature and the American Vision has many more canvases on view, some of them more important and impressive than those across Central Park.
But it is not just about the Hudson River, for—as at the Cooper-Hewitt—its special section on The American Grand Tour does make stops at Niagara Falls, Lake George, the Catskills, the Adirondacks, and the White Mountains!
Closer to home, City on a River: New York celebrates images of Manhattan's physical setting, waterfronts, and rivers.
On the River: Touring & Travel offers some wonderful vintage visions of the great paddle-wheel steamers that used to ply the Hudson River. Not to overlook sailboats and yachts…
In the two sections of the very long corridor that runs along the great hall where the paintings are displayed are two very long illustrated maps of the Course of the Hudson River, all the way down to the tip of Manhattan.
Cities & towns are shown with tiny images of docks and buildings; outstanding natural features are suggested. These almost endless maps should be very interesting to school-classes, not to mention Native New Yorkers!
And there are even more special thematic-divisions in this show: Grand Landscape Narratives, with the magnificent Course of Empire suite of visionary paintings; Life in the Landscape; A Passion for Genre Painting: Night & Day: Cycles & Seasons, and Artists Afield & Abroad—which permits paintings far beyond the Hudson River, featuring artists such as Albert Bierstadt, Martin Johnson Heade, and Frederic Church.
[Personal Note: When your scribe was in grade-school and first heard of the Hudson River School, he thought it must be rather like Groton or Choate. Or even an American version of Eton or Harrow.
But I wasn't sure, as over my bed was a copy of George Inness's Home of the Heron. It had been given to me by Jesse Juliet Inness Ellsworth Cox, daughter of George Inness II.
My father was Chief Herdsman for the Barnegat Purebread Guernsey Dairy in Nevada County, not far from Lake Tahoe. Harry B. Cox and his heiress-wife had come West and named their state-of-the-art experimental dairy-farm after their summer-home in the East, on Barnegat Bay.
Mrs. Inness-Cox explained to me that both her father and grandfather were leading painters of the Hudson River School. So I came to think of it as an academy where you learned how to paint pictures of the Hudson River…]
LEGACIES: Contemporary Artists Reflect on Slavery
[Closing 7 January 2007]
"Self Voodoo" by Allotey Fatima.
Historical artifacts—Runaway Slave posters, Lincoln's Emancipation Proclamation—richly provide visual-context for visitors to this exhibition of how some present-day American artists have explored the history of the Peculiar Institution of Slavery in the United States.
The show is divided into seven over-arching themes: Struggles Untold, Great Escapes, Worth, Work, Hope, Scars, and Survival.
Among the outstanding African-American Artists on view are four MacArthur "Genius" Award-winners: Kara Williams, Kerry James Marshall, Fred Wilson, & Carrie Mae Weems. [Kara Williams also has a Katrina-inspired show on view at the Met Museum.]
Six new works, made for this show, include Celestial Praise for Seneca Village, Mandela and Anne Frank Forever: The Endless Column, Mammy/Daddy, and Fred Wilson's Untitled, 2006, an exhibition-within-the-exhibition, drawing on museum-collections to show how Ideologies of Race & Class are kept alive by objects and institutions.
Among the other artists whose works are on display: Glenn Ligon, Lorenzo Pace, Lorna Simpson, Faith Ringgold, David Hammons, and Ellen Driscoll.
An important aspect of this exhibition is the fact that Millions of Peoples, of all Races, across the World, still suffer in Slavery—without masses of the Free even being aware of this Evil. Or Knowing, but not really Caring. This presentation should surely shock some out of their ignorance or indifference.
At the Whitney Museum of American Art:
FULL HOUSE: Sampling the Permanent Collection
[Closing 3 September 2006]
Great News from Madison Avenue—at least from the Whitney Museum Block!
The new/old show, Full House, is almost a Ready-Made Blockbuster. It more than makes up for the last two appalling Whitney Biennials.
On all five floors of the Whitney outstanding selections from the museum's Permanent Collections are spaciously, graciously on view. That is: Nothing is crowded on the walls or crammed the floors. Brice Marden & Bruce Naumann have breathing-space.
The most remarkable feature of this show is that Edward Hopper has the entire Fifth Floor to himself. Some of his most powerful paintings have entire walls to themselves!
There is a whole room devoted to his softly subtle Paris canvases.
A special section shows his work as an Illustrator, an aspect of his talent not so well-known. Some of the drawings of individual people—in what are now American Period Costumes—suggest similar magazine-illustrations by N. C. Wyeth and Howard Pyle.
In addition to some photos inspired by Hopper's Iconic Vision of American Isolation & Loneliness, there are on view some of his Ledgers, with detailed drawings and notes on sites and subjects he was considering.
Allied with these notebooks are several series of individual sketches made for specific oil-paintings. To study these and then turn to the actual painting—as viewers can now do at the Whitney—is a revelation of the care, thought, and detail that went into the execution of each canvas.
The Hopper Bequest to the Whitney included hundreds of his sketches, as well as prints, journals, watercolors, and drawings.
Among the famed Hopper canvases now on display: Second Story Sunlight, Seven A. M., Hotel Window, At the Theatre, Hotel Lobby, & A Woman in the Sun.
On the ground-floor, in that very special intimate gallery, Sandy Calder's complete Circus is set up for potential performances. Unfortunately, it is under glass—and Alexander Calder is long since under-ground, if not in a mortuary or columbarium—so visitors will have to imagine how some of the amusing bent-wire figures can be made to perform.
But—if you want to find out what it was like when Calder got down on the floor of a lavish Park Avenue Co-op to set out his Circus and put his tiny wire-performers through their paces for High Society party-goers—you can relive such an evening in Esther Jack's fashionable apartment in Thomas Wolfe's You Can't Go Home Again.
Jack was the fictional-name for Wolfe's mistress, and he called Calder Piggy Pennington. Wolfe was not really amused or impressed. But then, Calder's Mobiles were a long way off… The Circus-figures pre-figured his more abstract Stabiles. [This Wolfe was, of course, the Real North Carolina Thomas Wolfe. Not the Tom Wolfe man-in-the-white-suit who wrote from Bauhaus To Our House…]
Calder's tiny Whitney domain has a title: I Think Best in Wire. Hopper's is Holiday in Reality. Floors 2, 3, and 4 are labeled, respectively, as: Content Is a Glimpse, The Pure Products of America Go Crazy, & What You See Is What You See. Do you see the cleverness of that Labelology as a means of organizing Potential Chaos?
This entire exhibition could be used as a Three-D Art-History Exam! Professors & teachers could lead squads of students through the galleries—students possibly destined to become Curators in Dallas, Seattle, San Diego, St. Louis, or even Shreveport—and point out major works for Instant Identification.
Two shelves of Vacuum-cleaners in a fluorescent-lit glass-case? Jeff Koons, of course! A Plastic Person slumped in a chair? Duane Hanson, obviously!
Three American flags overlaid? Jasper Johns, no doubt about it! Drip & Spatter? Jackson Pollock, perhaps. And a Hairy Spider just has to be a Louise Bourgeois image, no?
That big pixilated-image of Philip Glass surely must be by Chuck Close—not to be confused with Glenn Close…
And so on-and-on: they are all here: All the Greats of Contemporary American Art, in all the Glory or Horror of their Trade-Mark Styles. The Distinctive Style, the special Subject-Matter: that is what made/makes them famous. And Expensively Collectable…
At the Brooklyn Museum of Art:
GRAFFITI: Pop Art or Not?
[Closing 3 September 2006]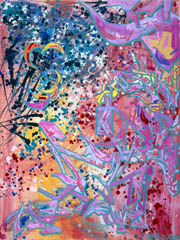 "Constellating of Events" by Joshua Franklin. Photo courtesy of the Brooklyn Musuem.
Time was when almost every subway-train was covered with graffiti—and not only on the outsides of the cars. Such illegal decorations are hardly to be seen anymore on the gleaming new cars. They seem to have been replaced by deep diamond-etching-scars on the window-glass.
Perhaps America's most venerable novelist, Norman Mailer, will bestir himself from his Brooklyn Heights Hibernation to concoct an Ode to Etched-Glass Graffiti?
After all, he it was who virtually Canonized the Outlaw Spray-can Subway Graffiti. It may seem a century ago, but it was more like 1974, when his richly-illustrated The Faith of Graffiti appeared to acclaim by avant-garde Taste-Makers.
Not only the subway-cars were targets, but also subway-walls and any unguarded surface-walls and fences, as well. In this long-ago era, in various subway-stations your scribe often came upon a neatly-dressed young guy, wearing glasses and clutching a piece of chalk.
Seeing me watching—as he approached an ad-frame, with a blank black paper pasted over previous ads—he'd grin and rapidly begin sketching a Radiant Baby with chalk-stroke rays emitting from him. Or an elemental Pyramid.
He worked so quickly—to elude subway police?—and so deftly, I thought he must have practiced these simple Icons, Symbols, & Forms at home. As soon as he finished, he'd glance my way, grin again, and be off up the stairs. On occasion, I applauded him, and he'd make a little bow.
Not only did I never think to strip off one of these poster-sized black-paper sheets for Posterity, but I also never thought to ask him his name. When I wrote about his work for The Westsider—with a photo I'd made in the subway of a drawing, but not of him, alas—I called him Chalkman…
Soon after, however, everyone came to know Chalkman as Keith Haring. I should have asked for an interview—I was also writing for Andy Warhol's Interview—and I surely should have ripped off some of the subway sheets Haring "appropriated" with his chalk.
Shortly after that, Tony Shafrazzi began promoting Keith's distinctive artwork. And Kenny Scharf and Jean-Michel Basquiat progressed from outlaw-graffitistes to Major Art-Stars. [My favorite memory of Jean-Michel is watching him and Andy—from a discrete distance—rummaging through the trash-basket on my street-corner. Who knows: Andy may have found a Cookie-jar in the mess?]
If you never experienced Manhattan Graffiti in its brief heyday in the subways and on the streets—or you are overcome with Nostalgia for a Lost New York—you should take the subway to Eastern Parkway and the Brooklyn Museum of Art for its new quasi-Shocker-show: Graffiti.
There are some twenty of these aerosol-spray paintings on view. Most show some interesting elements of color & composition, but the very urgent nature of their virtually instant execution often left no time for changes or improvements.
Also, out of their original cultural-context, some now seem rather like strange artifacts, not Works of Art. Nonetheless, such designs and visions have certainly had their effect on advertising and fashions.
But it will surely be interesting to discover—or rediscover—the skills or such artists as Lady Pink—Sandra Fabara, Crash—John Matos, and Daze—Chris Ellis.
At the American Museum of Natural History:
[Closing 7 January 2007]
After those Galapagos Turtles and that big green Iguana in the Naturally Selective Darwin show, you can be sure that the American Museum's Lizards and Snakes: Alive won't be your old run-of-the-mill reptiles.
Unfortunately, your scribe is so Between-Planes—Oregon-Manhattan-Munich—that there was no time to check this new exhibition out before filing this column and flying off to the European Festivals. But, as it runs six more months, there will be ample time to savor the snakes and look at the lizards in September.
Have a look at the Reptile World from a Human-Eye viewpoint this summer! But look out for the Diamondback Rattlers! And remember, Water Moccasins, Copperheads, Black Mambas, & Coral Snakes don't have rattles…
Boa-constrictors are Bad News, but a Feather-Boa is fairly safe—if a bit pretentious/ostentatious. Unless, of course, your boa gets wound up in the rear-wheel of an Alfa-Romeo, rather like the sudden end of the career of Isadora Duncan. What did she say: "Je vais a la gloire!"
[Closing 31 December 2006]
Amid the cracking bark of the trees of Madison Square Park, the roughly nicked & gouged stacked blocks of raw cedar—confected by Ursula von Rydingsvard—seem oddly at home, also rooted in the lawn & soil.
A towering cedar-construction is called Czara z Babelkami, an abstract Tower of Babel. It is actually a very tall bowl in its interior: Rydingsvard's works are about both Exteriors & Interiors, as well as the dreams and images her Minimalist/Abstract Expressionism structural/sculptural creations suggest.
Of the four sculptures on view in the park, one is quite different: of polyurethane-resin, not cedar wood-blocks. This is called Damski Czepek—or Lady's Bonnet. But it looks less like a woman's head-covering than a mysterious cave or grotto, owing to the gray stone-like aspect of the slabs of resin employed.
Last summer, Sol LeWitt's white-brick walls and pillars were deployed in Madison Square Park. They looked fairly permanent, if not very interesting. But it's now clear that each summer season, new art-constructions will appear down at the base of Madison Avenue, thanks to the Madison Square Park Conservancy!
By the way, this now lovely, inviting Park is near the original site of Barnum's Hippodrome and Madison Square Garden. Instead of moving the Peripatetic Garden—which, for years, was at Eighth Avenue & 50th Street—from the bowels of what was once Penn Station into the great Beaux Arts Post-Office Building, on Eighth Avenue at 33rd Street, why not Move the Garden back to Madison Square!
Muni Art Society's Annual Awards at New Morgan Library Complex
Every June, the Municipal Art Society honors various City & People-Friendly Projects and Movers & Doers who have Made a Difference. Usually, these events are held in some notable new architecture or in an important Historical Restoration.
This June, the scene was the glassy empty vastness of Renzo Piano's engulfing steel-&-glass linkages of the three Landmark Buildings of the Morgan Library Complex. It made one long for the handsome Post-Modernist Atrium that had once so sleekly—and almost unobtrusively—linked the Morgan Annex with the Morgan Mansion. Unfortunately, this had to be demolished to make way for the new structural-music of Piano-Tunes.
Muni Art's genial President, Kent Barwick, welcomed the massed members & guests. Municipal Art Society Certificates of Merit were then awarded to The Honorable Adrian Benepe—of the NYC Department of Parks & Recreation—for development of the Brooklyn Bridge Park Beach.
Muni Art Society officers and its many influential members have been in the vanguard of improving and developing the city's Waterfronts for recreational uses—as well as making former rotted piers, rusty warehouses, junked-auto depots, and factory slag-heaps into eye-pleasing locales.
Imagine the Gowanus Canal as a bit of Venice in Brooklyn! Eager advocates have been scheduling boat-tours to suggest what it could become. Not waiting for the proposed Waterfront Renaissance, the Gowanus Dredgers Canoe Club has already been putting the Grand Old Canal to recreational use. So they were awarded a well-deserved Muni Certificate of Merit.
As newspapers and other print-outlets are languishing, retrenching, and dying all over America—partly thanks to TV, but also to a general disinterest in reading—the need for more Schools of Journalism does not seem pressing.
Nonetheless, Judy Watson was given a Muni Certificate, honoring the newly-founded CUNY Grad School of Journalism. But the future for reporters, journalists, commentators, columnists, and critics does not seem to reside in Print-Media.
Blogging on the Internet—or Streaming on CNN—may be the Wave of the Future. [Oder Zukunfts-Welle…] Can Journalism Schools adapt to these impending, growing needs?
In order to show members & guests the reasons for the various awards, videos & slide-shows were used. This was appropriate for the Film Forum—whose award was accepted by Karen Cooper—as well as for Barry Kostrinsky's unusual Haven Arts Gallery in the Bronx. The latter award was presented by The Honorable Adolfo Carrion, Bronx Borough President.
One of Manhattan's oldest-continuing eateries was also honored with a Certificate. This is Katz's Delicatessen, over on East Delancey Street. Signs in Katz's still remind Noshers of World War II, when customers were—and still are—urged to send a Katz Salami Overseas to Our Boys! Fred Austin accepted, touting the goodies available, even late at night.
[Incidental Info: When your scribe—also a Muni Arts member—still had a car, Katz's was the Pit-Stop of Choice after every evening of Broadway & Off-Broadway Theatre. For weekend get-togethers, Katz's delivered heaping platters of salads and sandwiches, even to the Upper East Side.]
The Muni Art Society Certificates of Merit are coveted, but the Davis Award is even more of an honor. At the Morgan Library, it was conferred by The Honorable Adrian Benepe on Janice Melnick!
Every Autumn, the Society makes an even more prestigious award, honoring the late Brendan Gill, a wittily fierce Preservationist and the virtual Soul of The New Yorker.
It is your scribe's small honor to be a Nominator for this award. Christo & Jeanne-Claude were recent winners: Who could compete against The Gates in Central Park?
Copyright © Glenn Loney 2006. No re-publication or broadcast use without proper credit of authorship. Suggested credit line: "Glenn Loney, Curator's Choice." Reproduction rights please contact: jslaff@nymuseums.com.
Return to Curator's Choice Table of Contents