CURATOR'S CHOICE SM
Museums and Exhibitions in New York City and Vicinity
| Home | | Museum Guide | | International | | Architecture & Design | | Theater |
GLENN LONEY'S MUSEUM NOTES
CONTENTS, June 2006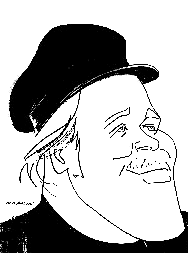 Caricature of Glenn Loney
by Sam Norkin.
Please click on " * " to skip to each subject in this index:
At the Metropolitan Museum: *
HATSHEPSUT: From Queen to Pharaoh *
WARRIORS OF THE HIMALAYAS: *
Rediscovering the Arms & Armor of Tibet *
SAMUEL PALMER (1805-1881): Vision & Landscape *
KARA WALKER AT THE MET: After the Deluge *
ANGLOMANIA: *
TRADITION & TRANSGRESSION IN BRITISH FASHION *
THE ART OF BETTY WOODMAN *
TRANSPARENT MONUMENT: Cai Guo-Qiang on the Roof *
THE MORGAN LIBRARY & MUSEUM *
RE-OPENS RENOVATED & EXPANDED *
MASTERWORKS FROM THE MORGAN *
At the Frick Collection: *
VERONESE'S ALLEGORIES: *
Virtue, Love, and Exploration in Renaissance Venice *
At the Whitney Museum of American Art: *
THE WHITNEY BIENNIAL 2006: Day for Night *
At the American Museum of Natural History: *
COSMIC COLLISIONS *
[New Space-Show/Hayden Planetarium] *
At the Jewish Museum: *
MAX LIEBERMANN: From Realism To Impressionism *
At the Neue Galerie: *
KLEE AND AMERICA *
At the Cooper-Hewitt National Design Museum: *
FEEDING DESIRE: *
Design and the Tools of the Table, 1500-2005 *
At the New York Public Library: *
LETTERS TO SALA: *
A Young Woman's Life in Nazi Labor Camps *
FRENCH BOOK ART/LIVRES D'ARTISTES: *
Artists & Poets in Dialogue *
At the New York Public Library: *
Science, Industry & Business Library: *
PLACES & SPACES: Mapping Science *
At the World Monument Fund Prince George Gallery: *
VAULTS OF HEAVEN: *
Sanctuaries of Byzantium *
At the Brooklyn Museum: *
SYMPHONIC POEM: *
The Art of Aminah Brenda Lynn Robinson *
WILLIAM WEGMAN: Funney/Strange *
At the Bard Graduate Center: *
AMERICAN STREAMLINED DESIGN: *
The World of Tomorrow *
At the CUNY Grad Center Art Gallery: *
TECHNICAL DETOURS: *
The Early Moholy-Nagy Reconsidered *
The Spring International Art & Antiques Show 2006 *
34th Annual Kips Bay Decorator Show House *
Muni Art Society Awards 2005: *
BEST NEW BUILDING: *
7 WORLD TRADE CENTER *

HATSHEPSUT: From Queen to Pharaoh
[Closing 9 July 2006]
Alternative View of Hapshepsut
Over half-a-century ago, your scribe/reporter was roaming what the buggy-coachmen called The Valley of the Queens—to distinguish it from the Valley of the Kings. It was a searing hot June—a time when no one visits Luxor, Karnak, or any of these sacred precincts. Just too hot…
Actually, it was an awkward time to be there for another reason. General Gamal Abdul Nasser—on whom I had just called at the Abdin Palace in Cairo—had ordered all Greek hotel-owners and other Greek business-men to leave Egypt and their properties. I was the last guest in a Greek-owned hotel in Luxor.
The magnificent funerary-temple the Queen/Pharoah Hatshepsut constructed at Deir el Bahri glowed with the heat of the desert sun, its ancient stones exuding warmth and mysteries. I was especially interested to find the head of the Goddess Hathor—with her cow-ears—as capitals on some columns. Was the Cow-Goddess actually the Golden Calf the Israelites had worshiped in the Sinai Desert?
Hatshepsut was the first woman in recorded history to have become head of a major nation/state. But what is most important about her as ruler is that she gradually assumed the powers and persona of Egypt's Pharaoh. At the height of her two-decades of rule, she had herself personified in sculptures, hieroglyphs, and other images as a Man, with all the ritual attributes of the Dynastic Pharaohs who had gone before her.
After Hatshepsut died, and her step-son & nephew Thutmose III—for whom she had initially ruled as Queen-Regent—ascended the Pharaonic Throne, he had many of her images destroyed or defaced. At the very least, he had her Pharaonic-beard and other male attributes whacked off some of the surviving sculptures of the Queen Who Was a King.
The new Met Museum blockbuster-exhibition draws on important sculptures, reliefs, artifacts, and records discovered in Met Expeditions in Egypt in the 1920s & 1930s. The Met was mainly responsible for the discovery, excavation, and reconstruction of important statues in Hatshepsut's mortuary temple at Deir el Bahri.
Archaeological finds were divided between Egypt's Cairo Museum and the Met, which was fortunate to be able to bring back to New York some very impressive stone images of Hatshepsut as Queen, as Pharaoh, and even as a Sphinx! Loans from other major museums—including Cairo—enrich this exhibition.
The ascendancy of Hatshepsut--as exemplified in many of the objects now on display--had a major effect on the development of the arts in Egypt, as well as on its economy, government, and wider influence in the Middle East.
One of the most powerful figures in her court was the Chief Steward Senenmut, also well represented in this monumental show. He was responsible for supervising architectural and sculptural projects, among other important duties. The nature of their relationship has been cause for speculation…
Not least by Modern Wits: Over half-a-century ago, writing parodic-profiles in The Decline & Fall of Practically Everybody--the humorist Will Cuppy explained the relationship between Hatshepsut and her favorite architect, Senmut [sic]: "She liked his Plans & Specifications!" Having read that when a student at UC/Berkeley, I was all the more determined to inspect and photograph her great temple-complex of Deir el Bahri.
Rediscovering the Arms & Armor of Tibet
[Closing 2 July 2006]
Lamellar Armor and Helmet
The mysterious Land at the Top of the World, Tibet, has long been regarded in the West as the domain of Sacred Lamas: Dalai, Panchen, and others; of Prayerful Buddhist Monks, of age-old formulaic Buddhist Incantations--they invented the Prayer-Wheel-- and of unending Ritual Meditations. With the flight of the Dalai Lama and the ascendancy of the Communist Chinese, in the West these ancient traditions of Prayer & Meditation have seemed terminally threatened.
Thus, it is especially astonishing to discover that Tibet has also had an ancient Warrior Tradition, stretching from the 13th to the 20th century. For centuries, it was necessary to protect the Monasteries and the Religious Heritage from neighboring states, also in the area of the Himalayas. Unfortunately, Tibetan Warriors were no match for modern Chinese warriors.
The Tibetan Plateau--as large as Western Europe--is the highest in the world and is generally regarded as almost inaccessible. But not to states on its Himalayan borders.
The forms of some of the armors for men and horses--as well as the weapons--now on view at the Met have been influenced by neighboring cultures over the centuries. Firearms first filtered into Tibet in the 16th century, from China, India, and Western Asia. And there are even influences of arms & armor from the West.
But much of the ornament and decoration on armors and weapons is distinctively Tibetan, with Buddhist imagery especially interesting. The intricacy of some of the multi-plated helmets and body-armors is astonishing.
There are some 130 objects on display--along with helpful wall-texts, photos, and diagrams--from the Met's own collections and those of various British museums, plus objects from the collections of the Smithsonian, Yale University, and the Newark Museum.
SAMUEL PALMER (1805-1881): Vision & Landscape
[Closing 29 May 2006]
Admirers of the visionary images of William Blake may be surprised to discover that he had a quasi-disciple in the considerable person of the English landscape-painter Samuel Palmer. He was, however, less interested in apocalyptic religious visions than in Romantic--and often imaginary--Landscapes.
In Palmer's early Shoreham Period--when still close to Blake--he developed a specially rich & brilliant visionary style that seems still fresh today. Among these works now on view at the Met are Palmer's In a Shoreham Garden and The Valley Thick with Corn.
Although he painted in oils, most of the works displayed are sketches, watercolors, and etchings. Palmer became one of the most admired of English etchers--although there are only seventeen known Palmer plates surviving.
Exploring his native England--and Italy as well--Palmer evolved into a more naturalistic vision of landscapes, some of them already celebrated in Romantic poetry & fiction: Tintern Abbey, View of Ancient Rome, and Cypresses at the Villa d'Este.
Among later, more mature works are the watercolors of King Arthur's Castle, The Lonely Tower, The Comet of 1858, and Christian Descending into the Valley of Humiliation.
This show features not only Palmer oil-paintings, but also some very intriguing watercolors and sketches. Noteworthy are Palmer's "Blacks": Monochromes with India-ink, watercolor, and sepia washes, with scratchings through the wash to create highlights from the surface beneath.
There are also works by his mentor, John Linnell, Palmer's wife Hannah--herself a considerable talent and daughter of Linnell, and others of his circle: George Richmond and Edward Calvert.
Connoisseurs are already familiar with Palmer's work, but for many Met visitors he will surely be a welcome discovery. What is astonishing about some of his later visionary landscapes is the similarity they have to images by the visionary American Charles Burchfield, who was working in a rather different visionary field.
KARA WALKER AT THE MET: After the Deluge
[Closing 30 July 2006]
Cottong Hourds in Sounthern Swamp by Kara Walker
Kara Walker has made the Black Cut-Out Silhouette--inspired by the 18th century tradition of portrait-silhouettes--her Artist's Trademark. But her cut-out subjects are not famed Statesmen, Philosophers, & Authors, or even Family-Groups, as was the custom even late into the 19th century. Instead, Walker uses this technically-demanding paper-&-scissors medium to critique suggestively Race, Gender, & Sexuality.
Walker's provocative show now on view at the Met Museum certainly involves Major Issues of Race, but it goes far beyond the Art of the Silhouette and deep into the Met's Archives for artworks that also illustrate: "the banality of everyday life, water, and its impact."
Hurricane Katrina was the immediate inspiration for this exhibition. Especially as, in its wake, it became horrifyingly clear that poor African-Americans were the major and most neglected victims of the ensuing all-engulfing New Orleans Flood.
As Walker says in her Artist's Statement: "The story that has interested me is the story of Muck." She refers to the "narrative of Hurricane Katrina"--initially reported as a "hyperreal horror show presented to the outside world as live coverage of a frightened and helpless populace"--as having shifted to "a more assimilable legend." "Rebirth" or "Security-failures" are easier to deal with.
But, for Walker, after all the harrowing survival tales or humorous anecdotes: "always there is a puddle--a murky, unnavigable space that is overcrowded with intangibles: shame, remorse, vanity, morbidity, silence."
Masterworks such as J.M.W. Turner's horrific Slave-Ship canvas and Winslow Homer's Gulf Stream are strong visual keys to Walker's theme. The extended Turner-title of this famous 1840 image is: Slavers Throwing Overboard the Dead and Dying, Typhoon Coming On.
Homer's oil shows a doomed Black man lying on the deck of a severely damaged small boat, with sharks circling round in roiling seas. This image so upset some art-lovers that Homer later added a sailing-ship in the far distance, suggesting this unfortunate mariner might be saved. [Not very likely, considering the distance--and the fact that the sailor is obviously a Black man.]
19th century graphics & texts have been adapted by Walker for interesting visual evocations of the problems of Race and Slavery: American Primitives. There is also her series of lithograph & silkscreen prints: Harper's Pictorial History of the Civil War (Annotated).
Among Kara Walker's own silhouettes relating to her theme are Middle Passages and Burn. But there are also 19th century American images of Black life, as well as some art-historic visions of Floods!
When Walker refers to "one of America's greatest social failures," she is speaking, not only of Katrina, but also of the much larger failure of the nation, its lawmakers, law-officers, and its citizens to guarantee the equality and integration of African-Americans into that society.
Walker also explains: "One theme in my artwork is the idea that a Black subject in the present tense is a container for specific pathologies from the past and is continually growing and feeding off those maladies. Racist pathology is the Muck, aforementioned. In this show's analogy, murky, toxic waters become the amniotic fluid of a potentially new and difficult birth, flushing out of a coherent and stubborn body long-held fears and suspicions."
This is a small-scale show--but a Very Powerful Theme!
TRADITION & TRANSGRESSION IN BRITISH FASHION
[Closing 4 September 2006]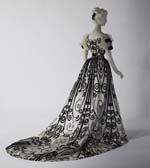 Evening Dress
While the World's Surviving Socialists were celebrating May Day, Manhattan's Celebrities were thronging the florally-transformed halls of the Met Museum on the first of May to benefit the Met's Costume Institute. As with the 2004 benefit, Dangerous Liaisons, the fashions on display were artfully arranged on models in a suite of the Met's Period Rooms.
Two seasons ago, the frocks were authentic 18th century French gowns--with towering wigs to match--shown in French Period Rooms. This time, however, the theme is Anglomania, and the remarkable, even bizarre, English dresses and outfits are on dummies in the Annie Laurie Aitken Galleries.
These are not mainly British Period Costumes, however, but often amazing couture-novelties from the shears and needles of Alexander McQueen, Stella McCartney, John Galliano, Vivienne Westwood, Paul Smith, Christopher Bailey, Richard Anderson, & Hussein Chalayan, among others.
At the press-preview, Johnny Rotten, of the Sex-Pistols, was on hand. And an interview with Mr. Rotten--made for the occasions--is available online! This blast-from-the-past was a salute to the era of Punk and the days of Swinging Carnaby Street couture.
The inspiration for this show was, in fact, French--which gives it another link to the 2004 French-themed costume-exhibition. In the 18th Century, French Thinkers such as Voltaire and Montesquieu were avid Anglophiles, seeing England as the land where the Enlightenment had found its truest expression.
Over the generations, however, the Anglophilia of Europeans and Americans has devolved into fascination with British Fashions, rather than admiration of Parliament.
On an elegant staircase from a Stately Home in Hertfordshire--Cassiobury Park, in fact--a grand 1880s gown worn to the Court of Queen Victoria--with an eleven-foot train--contrasts with the ragged dresses of Hussein Chalayan, whose deliberately tattered couture includes layers of second-hand & distressed garments!
Both Queens Elizabeth are also saluted in facing displays in cameos in the Elizabethan Room, thanks to the amusing inspirations of Vivienne Westwood. Unfortunately, neither of these admired English Monarchs could be on hand for the Tailor-Made festivities of the Exhibition-Opening and Costume-Institute Benefit.
So the Regal & Noble had to be represented instead by His Grace, the Duke of Devonshire! He was an Honorary Chair! His lovely old Seat, Chatsworth House--a Stately Home that is actually more of a Palace--is, oddly enough, not in Devonshire. But isn't that so very British?
There is a Circulation-Problem with the current show. Most of the Period Rooms have low barriers to prevent museum-visitors from getting too close to the sculptures, paintings, furniture, and objects d'art.
At the press-preview, the crush was so dense--especially with TV-cameramen pushing-in for a good shot--that it was at times almost impossible to move. Your scribe had to go through the show twice, to make sure he'd seen all the displays.
One magnificent room, for instance, permits viewing only from entrance-doors on either side. You cannot enter…
When the General-Public comes thronging through the galleries, the crush will be even worse. Still, this is not to be missed!
[Closing 30 July 2006]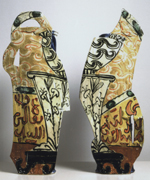 Vase and Carpet Diptych by Betty Woodman
In the Met's Great Hall, the four Floral-Display Niches--funded by Lila Acheson-Wallace, of Readers Digest fame--have weekly changes of seasonal flowers & foliage. For the present, however, these handsome and almost overwhelming bouquets have been firmly anchored in the large, brightly-painted, unusually-shaped ceramic vases of Betty Woodman.
There are even more of these on view in the Met's Helen & Milton Kimmelman Gal lery, as well as some colorful ceramic wall-decorations. A number of the standing-works could be used as vases, but it is clear that Woodman, over time, has retained the tubular structure as vertical stabilizers for her wildly abstracted dashes of color and broken geometrics on abstractly-outlined plates of glazed ceramics.
Initially, Woodman trained as a potter, with a Bauhaus-inspired idea that even ceramic artworks ought to be useful as well. This is not necessarily a Misguided Aesthetic: especially for would-be Collectors with tiny Manhattan apartments…
One of Woodman's later Super-Vase artworks could easily take over the visual-energy of a room, dominating, if not obliterating, other smaller artworks.
As she evolved from merely throwing pots or vases, Woodman was influenced by art-historical sources--works from the Tang Dynasty and Greek, Minoan, Egyptian, and Etruscan ceramics.
And Woodman began to create ingenious and amusing art-objects. Especially artful & imaginative are her Erotic Burrito, Pillow Pitcher, and Swordfish Soup Tureen & Stand.
If I could own one of Woodman's artworks, it would be her wonderfully baroque Italian Window #11. But I also love the baroque flair of her 1978 Napkin-holder.
TRANSPARENT MONUMENT: Cai Guo-Qiang on the Roof
[Closing 29 October 2006]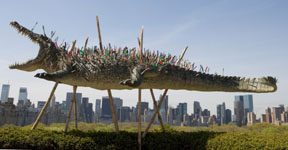 Move Along, Nothing to See Here by Cai Guo-Quiang
Guy Fawkes Day is still a long way off, but Met Museum visitors can still talk of Gunpowder Plots when they see what China's Cai Guo-Qiang has devised for them On The Roof. He is already famous for his large-scale gunpowder-explosion projects. The Asia Society had some wall-sized firecracker-smoke-scarred-patterned works on view not long ago.
When the press arrived on the Met roof, a mini-cloud of black smoke was unfolding in the sky above Central Park. It looked like Al-Queda at work--but with no skyscrapers targeted. Just Empty Air!
This is an "ephemeral sculpture," with the title of Clear Sky Black Cloud. For its maximum effect, it depends, of course, on a Clear Sky. Also one free of High Winds…
But you can only witness Cai Guo-Qiang's cloud at Noon, Tuesdays through Sundays. The show's press-release suggests that these explosions "will set a new and symbolic clock for New York City [Italics & boldface added: Ed] for the duration of the exhibition." Now really… Is this Excessive Hype? Or did Cai Guo-Qiang actually say that?
But smoke-clouds aren't the whole show!
There's also the Transparent Monument. This is a 15-foot-tall sheet of transparent glass--as opposed to translucent, or opaque glass--with some replicas of what certainly look like Dead Blackbirds at its base. No birds were actually killed to make this important Avian Statement about Window-Dangers.
The artist's assistants--surely, he wouldn't bother to do something like this himself?--must have gathered up all the loose black feathers they could find and then wired them together to look like dead-birds. John James Audubon was not so fussy: he just shot the birds, preserved them, and then painted them.
In Europe, this Make-believe-Window--looking out on the Park, the City, Nature, The World, and, perhaps, even--at night--on Distant Galaxies in the Skies Beyond--would have had some large black bird-patterns glued to it, so that real live birds would know enough not to fly into it. Or that is the Fond Belief of Window-Glaziers who apply the blackbird cut-outs.
But there's More, more, more up there on the Met's Roof!
Poised on roof-ledges are two resin Crocodiles--No Live Crocodiles Were Killed!--their tough hides pierced with hundreds of Swiss Army Knives and other sharp objects confiscated at Airport Security Checkpoints. You wondered what happened to your fingernail-scissors? [Actually, Homeland Security--or one of its myriad agencies--sells these for resale by retailers.]
This duo of art-objects, or sculptures, is dually titled: Move Along, Nothing To See Here.
In a possible Asian-Imitation of the art-crafting practices of Jeff Koons--who has had some Major Works made by Old World Italian Craftsmen--Cai Guo-Qiang has had some Chinese craftsmen-stone-carvers execute his designs for Nontransparent Monument. This is a sturdy stolid 9' x 32' limestone narrative-sculpture, carved in relief in the rounded, almost cartoonish, style favored in Maoist & Post-Maoist China.
Actually, the relief is composed of nine stone-panels--or stele--with vignettes of "aspects of our lives after the events of September 11, 2001." There are some 70 of these images, all designed by the artist, with spaces filled in between with flowers, birds, and landscapes devised by the stone-carvers.
This is a very complex, crowded work, so plan to spend some time decoding it. It is worth your while, if there are not hordes of tourists pushing in front of you…
Among the scenes & images: Migrant Workers, Saddam Hussein, Avian Flu, Bernard Cardinal Law, Same-Sex Marriage, Harry Potter, Three Gorges Dam, Cell-Phones, Geo W. Bush, Prisoner Abuse Scandal, Crop Circles, Hugo Chavez, Shanghai's Skyline, Cloned Dogs, NYFD, Kim Jong II, Suicide Bombers…
Well, you get the idea…
[Re-opened to the Public: 29 April 2006]
Lobby-Central Court
One of Manhattan's most loved, admired, & respected Great Robber-Baron Mansion-Museums is the Morgan Library. Henry Clay Frick's Fifth Avenue manse--housing the Frick Collection--is a close second. With Andrew Carnegie's Upper Fifth Avenue mansion--now home of the Smithsonian's Cooper-Hewitt--in third place.
The Bad News was that the Morgan has been closed for almost three years, during extensive additions, enlargements, and restorations. There were, however, off-site lectures & programs to preserve some sense of continuity for Morgan Trustees, Patrons, Members, and regular off-the-street visitors.
The Good News is that the New Improved Super-sized Morgan Library has just opened for exhibitions from its considerable collections, for scholarly research, for the general-run of art-lovers, and for dinners, lunches, and snacks.
Having tea & a sandwich after looking at original Albrecht Dürer sketches may seem a small thing, after exposure to so much genius & beauty, preserved over so many centuries. But a visit to the handsome modern steel-&-glass Atrium--linking the Morgan's Beaux-Arts Annex to the 19th century Morgan mansion behind it--for a light afternoon-snack had become a welcome feature of an outing to Madison Avenue & 36th Street.
At the press-preview, it came as a distinct shock to some former regulars to discover that the Atrium has been demolished. It had to die, in order for the Morgan to Live… A Vita Nuova for the Morgan, so to speak!
The fairly new Atrium had to be removed to make way for Italian architect Renzo Piano's Post-Modernist Vision for consolidation of the historic Morgan structures--with doubled exhibition-space, considerably enlarged storage, preservation, & research areas, and other important amenities.
For longtime lovers of the Morgan Library, Piano's new glass-&-steel cubicoid-connecting-core--uniting the three historic buildings--may also be a shock. At least possibly an aesthetic-disappointment?
But it is very solidly There, and it is not going to be demolished like the noble Atrium any time soon. Unless, of course, some Architectural-Dissident-Terrorists take a cue from E. L. Doctorow's Ragtime, wherein Coalhouse Walker planned an attack on the Morgan!
When the Atrium was constructed--an action some Purists considered close to Sacrilege--it finally provided easy access to the old Morgan mansion on the upper corner of the Morgan's Madison Avenue half-block. At one time, this great house had been a Lutheran Church administrative-center. The Lutheran Church's plan to demolish the mansion and replace it with a high-rise was ultimately foiled.
Physically joined to the original Morgan Library and its Annex, the manse's ground-floor made possible a small bookshop, a small auditorium, and a conference-room in the elaborately baroque dining-chamber. Staff-offices were upstairs.
Now these two latter spaces have been combined into a handsome book & souvenir-shop. The former bookstore is now the intimate Morgan Dining Room--with an intriguing and elegant bill-of-fare. The much larger central glass-house--flooded with light--is the new Morgan Café, with a lighter menu, but no less attractive.
At the press-preview, several colleagues--somewhat overwhelmed by the height and dimensions of this soaring glass, light, & air space--wondered how exhibitions could be installed in this area, which is "prefaced" by a very large glass entry-foyer and open forecourt on Madison Avenue.
Considering the low light-levels that must be maintained for public-exhibition-exposure of many of the Morgan's priceless manuscript-treasures and rare printed-books, this is not the best spot to put the Gutenberg Bible on permanent display.
Nonetheless, with so much space available, it's entirely possible for the Morgan Café to share with special-exhibitions of folding-panels with contemporary photos, posters, texts, and reproductions that will not be damaged by exposure to sunlight. Not to neglect historic sculptures, bronzes, and reliefs…
This radiant space can also be co-opted for lectures, conferences, and presentations, although the handsome new Gilder-Lehrman Auditorium--in an excavation deep under the basement-level--will surely be much in demand for live-performances, concerts, films, and lectures.
Not only will it take time for the Morgan's Old Friends to get used to the immense glass-house-effect--which frankly does not harmonize with the historic architectures on the site--but the demolition of the old Gallery-Corridor that connected the Morgan Library with the Annex will also shock.
This Corridor--with a small gallery on one side--created the effect of an Architectural-Unity, rather like walking from one wing of a great mansion to another tract.
That is now all lost. The Morgan Library is now entered from the Glass-House, up some low-stairs, through a heavy bronze-&-glass door into a narrow building-rear passage. There is a wheelchair-lift, and push-buttons to activate all the complex's heavy new doors.
The great Central Entry-Doors on 36th Street have not been in use for years, but obviously J. P. Morgan originally did not want his guests sneaking in the back-door. When the Corridor was the architectural link, however, the Library passage did not seem so narrow. Possibly because a glittering gold & jeweled shrine was on view at the juncture… But everything was In Context.
With the greatly-increased exhibition-spaces, Mr. Morgan's impressive library-chamber--freed of exhibition-cases--is now spacious indeed, with its rising ranks of glassed bookshelves supporting thousands of rare books, its immense fireplace and vast tapestry.
This is also true of J. P. Morgan's Study, across the central Rotunda from the Library. It is still handsomely furnished and glowing with magnificent artworks, but there is more space in which to enjoy both the ambiance and the individual treasures.
What the Public won't see is Mr. Morgan's secret Sancta Sanctorum, where--as rumored in Doctorow's Ragtime--this Magisterial Magnate would retire for Meditation and occasional meetings with Henry Ford and other Powerful Americans.
In the space between the Library and the Annex there is a little cubicle, The Clare Eddy Thaw Gallery, where small objects d'art and rarities such as Medieval Gospel book-covers, richly decorated with gold & jewels, are on display.
In the Annex, there are now two large ground-floor exhibition-chambers--the Morgan-Stanley Galleries, East & West--with the Marble Hall in the center. One of these rooms was formerly the scholars' & researchers' library-facility. That is now upstairs on the third-floor, above the Morgan-Chase Lobby.
On the second-floor over the Lobby is the new Engelhard Gallery, now featuring rare manuscripts and drawings under very low light in its windowless confines. In fact, in all the galleries, the light-levels seem lower than before the make-overs.
Good for deteriorating papyrus and ink-acid-eaten Mozartian Scores. But hard on squinting eyes…
[Closing 12 November 2006]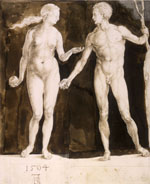 Adam and Eve by Albrecht Durer
Some of the priceless pieces of paper now on view at the Reborn Morgan will seem like Old Friends to longtime visitors. Others have not been on display for years. Still others have never been shown to the public. And there are new acquisitions on parade, as well.
Treasures & Artifacts have been drawn from the Morgan's six major collection-areas: Master-drawings & Prints from five centuries; Medieval & Renaissance Illuminated Manuscripts; Literary, Historical, & Music Manuscripts; Rare Printed-Books, and Ancient Pictorial Seals from the Middle East.
Some hundred drawings are on view and they are among the finest, rarest, and most beautiful in the Morgan's considerable collections. Presented by school or period, they include prized works by Leonardo, Michelangelo, Raphael, Rembrandt, Rubens, Watteau, Tiepolo. Cézanne, Degas, Picasso, and even Jackson Pollock.
Among the manuscripts are pages from the Brontës, Charles Dickens, Galileo, Jane Austen, Ezra Pound, and Willa Cather, to name a few. A curiosity is Edgar Allen Poe's long, long scroll for a haunting tale: it was his custom to write his texts on small pieces of paper and then fasten them together to make long scrolled manuscripts.
Although the Morgan's over eleven-hundred illuminated manuscripts span ten centuries--including Egyptian papyrus-records--the current exhibition is limited to some two-dozen Medieval & Renaissance treasures: the so-called Age of Vellum. The range of these remarkable works runs from the Carolingian, through the Ottonian, Romanesque, and Gothic, culminating with Renaissance illuminations.
On show will be the Farnese Hours, the Hours of Catherine of Cleves, and the Reims Gospel Book, as well as the 35 hand-painted Tarot Cards, made for the Visconti-Sforza Ruling House of Milan.
As for rare books, on view are one of the Morgan's three Gutenberg Bibles and a first-edition of Malory's tales of King Arthur [1485]. There are also some notable examples of decorative book-binding.
And, of course, a number of the Morgan's ancient Cylindrical Seals--from Mesopotamia and other areas of the ancient Near East--are proudly presented.
Personal Note: During the press-preview, your scribe looked for his long-ago special book-donation to the Morgan in the new Research Library. But because the bound volumes of Punch I gave the Morgan ran from the first year of publication, in 1842 to 1899, they would have taken up several shelves.
They did turn up on the in-house computer-index and are in reserve, waiting for interested researchers. The reason they went to the Morgan--rather than the New York Public Library--is that I found, when I first flipped through some of them in Dublin, way back in 1956, that W. S. Gilbert had contributed amusing poems, commentaries, and even cartoon-sketches.
Among the Morgan's smaller Special-Collections is a trove of Gilbert & Sullivan materials. At the time of my gift, Rick Wilson--a longtime Theatre Library Assn. colleague--was the G&S Curator, and he was eager for the Morgan to have the volumes of Punch, most of them obviously never opened. [Frederic Wilson is now Theatre Librarian at Harvard's Widener Library.]
Actually--aside from my initial "flipping-through" in a small Dublin bookshop near Trinity College--I never had the opportunity or the time to read any of the volumes. In a bin outside the shop, a dozen or so volumes were on display for 2/6 each!
Why so cheap, when there was so much of value in each issue in each volume?
"This is British humor, and we Irish don't find it very funny. So I'll thank you to get it out of my shop!"
He shipped boxes of Punch to Grass Valley, California, where they stayed in storage for thirty years. Until I got them out and sent them off to the Morgan. In the meantime, some volumes had vanished in the High Sierras--so the run is not now complete. But still worth riffling-through…
Virtue, Love, and Exploration in Renaissance Venice
[Closing 9 July 2006]
In the great Oval Salon of the Frick Collection--a venue-of-choice for exhibitions of loaned large-scale Old Masterworks--a major show of Paolo Veronese's Allegories is now on view. Of the five canvases, only three are on loan, as The Choice Between Virtue and Vice and Wisdom and Strength are already Frick Treasures.
Useful wall-texts explain some of the curious and arcane symbolism in both these flamboyant allegories. For example, in the allegory of The Choice Between Virtue and Vice, is it a Painterly Mistake to have a flap of fabric drooping down from the right foreleg of a handsome young man, making the wise choice of Virtue over Vice?
It looks both odd and untidy. But it is very significant: it helps explain why the man is turning in such haste from the viciously attractive visage of Vice. Her Harpy-Claws have just clutched his leg, trying to hold onto him, but finally only tearing his stocking half-off! Other symbolic devices also define the classical attributes of the figures of the two contesting female Powers.
As for the Frick's Wisdom and Strength allegory, a pedestal-inscription--ALL IS VANITY--dismisses the symbols of wealth & power at Wisdom's feet, as it does the brute-force implicit in the figure of Hercules, with his symbolic club & Lion-skin.
But Hercules' odd posture--standing behind Wisdom [Athena in Renaissance-drag?], with his right leg concealed and his left leg exposed to the viewer--seems almost an evocation of the third allegory, that of Venus & Mars in Love. If not, why is he standing in that position, looking downward as though contemplating a difficult Rear Entry?
A tiny naked cherub is at his foot… Renaissance Kinderporn?
Venus and Mars United by Love--the third of these mythical allegories--is a loan from just up the street from the Frick. It is a Met Museum Masterwork. The virtually-nude Venus is actually lactating, as Mars sits crouching beside her, united by Cupid with a ribbon. Another Eros takes Mars' sword away, toward his tethered battle-steed, suggesting the Victory of Love over War. A pavilion in the background is supported by a Herm, a symbol of Priapic Power.
The remaining two oils-on-canvas are from the collections of the Los Angeles County Museum, gifts of the Ahmanson Foundation. These celebrate Navigation--but with nary a ship in sight.
As Veronese was mainly active in Venice--and this famed Maritime Republic was one of the great sea-powers of the Mediterranean for centuries--it is assumed that they are part of a suite of four Naval Allegories, perhaps commissioned for the Venetian Palazzo of an Admiral or Merchant-Prince.
Their origins, however, are a mystery. A 19th century Scots collection is apparently as far back as they can be definitively traced.
The poses of the rather heroic allegorical navigators make an interesting contrast. One figure--standing in an almost balletic-pose--is looking upward, possibly towards the Heavens, by which much navigation was done--before radar-screens. His garb seems a merger of Classical Roman & Renaissance.
His right arm and hand are extended across his body to hold a double-barred cross, with its base resting on his upper left thigh. If you did not know that the title of this painting is Allegory of Navigation with a Cross-Staff, you might instead recognize the instrument as the richly symbolic Cross of Lorraine!
The mate of this painting shows another heroic figure--seated and swathed in cloak & robe--looking downward, towards the Earth. Perhaps he is looking out towards the docks, from a higher architectural vantage? Behind him is a curved section of a classical wall, with an ornamental balustrade beside him.
This canvas is called Allegory of Navigation with an Astrolabe. Indeed, the most interesting feature of this painting is the ornate and intricately detailed Astrolabe he is holding!
Understanding its mysteries--as well as discovering how a stick with two cross-bars could show a ship's captain how to sail to Far Cathay--could be a wonderful workshop-topic for school-classes visiting the Frick!
At the Whitney Museum of American Art:
THE WHITNEY BIENNIAL 2006: Day for Night
[Closing 28 May 2006]
Will it come as a surprise for those art-lovers living beyond the Hudson River to hear that the current Whitney Biennial is even more witless than the previous two?
What is different this spring is that the show has a title for the first-time-ever: Day for Night. Fans of François Truffaut will instantly recognize this as a Cinematic-Borrowing.
In French, this film-classic was titled La Nuit américaine. It would have made more sense to borrow the original title, in terms of what the Whitney's curators want to show about the Current Currents in the muddy-waters and murky-nights of Avant-garde American Artworks.
Among the portentous and pretentious curatorial-explanations of the show's title, this is perhaps the most Lucid, Transparent, if you will: "The artists in the 2006 Biennial are working in a space between pre- and post-modernist parameters--somewhere between day and night, between the history of forms and the forms of history. In this twilight zone, many things are called into question or obscured."
[Wow! Phrase-making in Action: The History of Forms and the Forms of History That's really Cute!]
Speaking of History--or more precisely Art-History--many of the anointed Chosen Artists in this prestigious show are clearly working very hard to develop a Clearly Identifiable Style, in a Distinctive Medium or Media, if not always a Certifiable Subject-Matter. Some, like Mark di Suvero, have long ago succeeded.
This is, of course, in the Grand Tradition of Andy Warhol, David Salle, Frank Stella, Dan Flavin, Norman Rockwell, Jenny Holzer, and other Greats, whose works can easily be identified by their Styles.
Just as Art History students have passed exams by recognizing slides of artworks by Leonardo, Rembrandt, and Vermeer, so also will students in Contemporary Art History classes--or Art History of the Future!--be able, it's to be hoped, to identify the works of Troy Brauntuch and Daniel Johnston, among other strivers…
There seem to be even more Untitled titles in the current Biennial than before. How can these works be distinctively & digitally catalogued over the ages? Especially when an artist assigns this Generically Anonymous Title to many of his or her artworks?
Video is creeping up on Works-on-Paper, Paintings, Sculpture, Photography, and even on Installations--which often have Video-Components to add interest. This change is especially apparent in the amount of exhibition-space that is now devoured by the dark chambers necessary to project Works of Video Art. Those lost four-wall-spaces could have been put to better use--in some cases--by hanging two-dimensional artworks on them. If not hanging their artists…
One video/filmic oddment--which featured the magisterial presence of Gore Vidal--recalled the trailers for Bob Guccione's Caligula, with Erotic Overkill by Celebrated Film-Personalities. It was at least amusing, if it broke no barriers or freed fettered-imaginations.
But some of the more egregious and repetitive videos are not Ready for Prime-Time… Hand-held cameras are OK if you are focusing on something of real interest.
Richard Serra provided a roughly scumbled painting of that now ubiquitous Abu Ghraib Torture silhouette, its conical hat flanked by the words: STOP BUSH. That certainly left no one--except the prisoner--In the Dark about Serra's political position! Talk about Day for Night!
One canvas catches the eye--not because of the elemental grade-school outline of an open-mouthed girl, showing her right middle-finger erect--but because of the red-lettered legend below: MARY KATE -- "FUCK YOU/I CAN AFFORD IT"
Wow! Norman Rockwell, Eat Your Heart Out!
And what would NYC art-lovers have to talk about without the Biennial? Too bad it comes only every two years? Or is that More Than Enough?
At the American Museum of Natural History:
[New Space-Show/Hayden Planetarium]
Will Planet Earth soon be destroyed by an Asteroid on direct collision-course with our globe?
Can this be averted by launching a Giant Spacecraft to nudge or pull the asteroid off-course?
In Cosmic Collisions, the new show at the Hayden Planetarium, these fears and questions are explored. As are the collisions and implosions that created our Solar System and untold others--and vast galaxies in the Ever-expanding Universe.
Anyone who has seen that immense Meteor-Crater in Arizona can have some idea of the effect of an actual collision on the Earth. NASA crews trained in this giant basin for Landing on the Moon!
The brilliantly-devised new show revisits such cosmic disasters through simulations of catastrophes that occurred millions of years ago. One of these--some 65 million years before our era--hastened the End of the Age of the Dinosaurs!
The Hayden show recreates the crash of a planet-sized object into the Earth some 4.5 billion years ago. The resulting debris coalesced to form Earth's Moon! Born-Again Creationists, take note! The intelligent design of the new Hayden presentation is so amazing that spectators have an almost virtual sensation of experiencing some of the cosmic impacts!
This cosmic activity is going on constantly, stretching over billions of years and trillions of miles. Gravity is constantly pulling together planets, stars, and galaxies. Our Milky Way may be on course to meet the Andromeda Galaxy head-on. The predicted result wouldn't be a collision, but a merging, to create a new giant elliptical galaxy. Nor will this happen in an instant…
Currently on view at the American Museum of Natural History, Cosmic Collisions is narrated by Robert Redford. "Star-Quality" is apparently needed when the Museum & Planetarium wants to explain the Stars to school-kids and the general-public.
Although some devout Christians and Jews firmly believe that God Fixed the Stars in Their Places, modern Astronomy and Physics have demonstrated that the Universe is in constant Flux and Evolution. Robert Redford certainly makes that point in Cosmic Collisions!
MAX LIEBERMANN: From Realism To Impressionism
[Closing 30 July 2006]
The Flower Terrace in Wannsee Garden Facing Northwest by Max Liebermann
Almost more important than the impressive canvases Max Liebermann painted of German workers and peasant-life prior to World War I--not subjects mainstream academic German painters depicted--as well as earlier works that show him finding his distinctive "voice" as a painter, is the Developmental-Narrative which these paintings document.
Although he was a German-Jew from a wealthy family, Liebermann's interest in Social Equality marked him as something of a dissident in Kaiser Wilhelm's Berlin. Nonetheless, the power of his Naturalist images--influenced by Dutch and French masters--won him favor with critics and collectors.
He was a founder of Berlin's Secession, created to provide talented but disdained [non-Academic] painters & sculptors with exhibition-venues. With the defeat of the German Empire and the establishment of the Weimar Republic, Leibermann was even more admired and successful.
From his earlier Naturalism, Liebermann gradually moved toward Impressionism, emulating the more important French Impressionists. In this, he was also successful.
Liebermann was even elected President of the Prussian Academy of Art from 1920 to 1932, when the Nazis forced him to resign.
He was an "Assimilated Jew," so he made no attempt to limit himself to Jewish religious or social themes. This did him no good with the Nazis, whose arts-experts accused Jewish artists, dealers, and art-critics of corrupting High Aryan Standards in the Arts with their "Cosmopolitanism" and "Internationalism," which were in effect Code Words for the aesthetic values of educated, cultivated Jews in Berlin, Munich, and other great German cities.
Although Liebermann died, at age 87, in 1935, in just two years the Nazis had essentially removed him from all aspects of public life. And his paintings had disappeared from museums throughout Germany. In 1943, when his surviving wife, Martha, was scheduled to leave for Theresienstadt Concentration-Camp, she took poison.
[Closing 22 May 2006]
Cold City by Paul Klee
What do you say/About Paul Klee?
What the Nazis said was that he made Entartete Kunst, or Degenerate Art. That was enough to remove him from the faculty of the innovative Bauhaus, in Dessau. In fact, the Culture-Arbiters of the NSDAP closed down the entire Bauhaus School--and some of its most prestigious artist/architect/designer/teachers moved to the United States.
Fortunately for Klee as an artist, as his career in Europe was under threat, he was becoming increasingly popular in America, not only with museum-curators, but more especially with knowledgeable private collectors.
Known as one of the Fathers of Dada, Klee later slid into Surrealism, with colorful, often childlike designs that fascinated as much for their strange symbolism as for their bold geometrics.
The Neue Galerie exhibition focuses on the growing American interest in Klee's paintings and designs in the 1920s, 1930s, and beyond. There are over 60 Klees on view--and many of them will be like Old Friends to avid museum-goers. Your scribe virtually grew-up with some of the canvases from the Klee Collection of the SF Museum of Modern Art.
Some of the more powerful works on view include Klee's Schauspieler-Maske, composed largely of thin red lines crossing an ovoid green face, topped and framed with thin red lines of hairs: the red recalling that red-wigs for centuries were the trade-mark symbols of Clowns & Comic Actors!
Then there's the 1921 Cold City, or--Kalte Stadt--with light greenish geometrics of houses, with black squares for windows, against a brown-ground. This makes a strong contrast with the bold, strongly colored rectangles and triangles of his 1915 Gelbes Haus.
Among the lenders of important Klees are the Morgan Library, the Met Museum, MoMA, SFMoMA, and the Phillips Collection in Washington, DC--where this show will next be seen. Following that, it will travel to the Menil Collection in Houston.
At the Cooper-Hewitt National Design Museum:
Design and the Tools of the Table, 1500-2005
[Closing 29 October 2006]
If you are expecting to see a full service of Flora Danica laid out in formal array on a banquet-table in the new Cooper-Hewitt Tools of the Table show, you will have misread the exhibition's title. This is not about dinner-plates and crystal-goblets--though some handsome ones are, in fact, on display.
Instead, the glittering focus is on the actual dining-tools: the Knives, Forks, and Spoons! But they are often shown In Context: ranged on either side of elegant plates. Examples from the museum's considerable flatware collections cover some five centuries of Elegant Eating.
It's a Truism that "Fingers were made before forks," but this new show makes no visual reference to the Nomadic Custom of eating with the Right Hand--leaving the Left free for less sanitary purposes…
Actually, as Tools' wall-texts point out, Knives were made before forks. And even Kings and Emperors up to the time of the Renaissance speared their meats with knives. It was Queen Maria di Medici who introduced the use of forks into France.
In the Dark & Middle Ages--indeed, up to the late 17th century--travelers had to carry their own eating-implements. This handily prevented the theft of cutlery at inns and even in private houses. Nor were there ashtrays or towels to swipe as Souvenirs of Padua or Paris…
Royals, nobles, and rich merchants usually traveled with their own chests of cutlery. Some impressive examples are on display, as well as historic knife & fork kits. How about a pistol-grip fork used by George Washington?
A special aspect of this show is the spotlighting of the development of special cutlery and serving-vessels for newly popular beverages such as coffee, tea, and chocolate. Not to overlook Dessert-Services and elegant Serving-Ladles, Soup-Spoons, & ornately-decorated flatware, some elements so sculpted that they seem almost impossible to use with ease.
There are even handsome sets of In-Flight ceramics & flatware, notably from Scandinavia. These are marvelously Modern, but they are already Historic, as in-flight-meals disappear. Perhaps only in First Class?
Special tools for Serving & Eating Fish and other sea-foods are also highlighted. As are Ergonomic tools and plastic chopsticks for kids. Creations of notable modern cutlery-designers such as the Wiener Werkstätte's Josef Hoffmann and Peter Behrens and Scandinavia's Georg Jensen and Arne Jacobsen are on view.
Personal Note: Speaking of Special Cutlery: Way back in 1958, when I was entertaining my Salinas, CA, Uncle & Aunt for breakfast--in Munich at the elegant Bayerischer Hof--Uncle Bob picked a large eating-tool on the knife & spoon side of his plate, obviously baffled.
"Just look at the size of this butter-knife! Did you ever see anything like it?" Bob asked.
Aunt Katherine also seemed puzzled, but she said nothing, waiting to see what I would do with the Fish Knife.
Neither of them had ever seen a fish-knife before. Certainly not in Salinas: Steinbeck Country. The Grapes of Wrath and all that…
At that point, Elvis Presley and his Entourage entered the breakfast-room. He was serving in the US Army in Frankfurt, but he'd come down to Munich on weekends.
"Didn't you meet him when you were teaching in Las Vegas? Go over and get his autograph for your Anun!"
I told him it would not be appropriate. The last thing Elvis would want would be to be annoyed by an autograph-seeker in a five-star hotel where few people knew who he was. In fact, he was supposed to be Incognito--and not many Germans were Elvis Fans at that time.
Aunt Katherine sighed: "Sometimes I wish I could just sink through the floor when I'm with Bob! He never waits to see what other people are doing…"
Post-PS: At the Cooper-Hewitt, some forks and spoons are tethered to a table, so you can actually hold them in your hands to see how they handle. One of them is a sleekly modern Georg Jensen silver-spoon.
I recognized it as part of a remarkable set of cutlery Jensen launched Postwar. In fact, in the early 1960s, I had bought four place-settings in Copenhagen, at Den Permanente. What I had forgotten was that these knives, forks, and spoons are Silver! Maybe that's why I've never used them: Don't let them get scratched--or stained in the dishwasher!
At the New York Public Library:
A Young Woman's Life in Nazi Labor Camps
[Closing 17 June 2006]
Photograph of Harry Haubenstock and Sala Garncarz

Letters to Sala is a heart-breaking exhibition. But also, in some sense, heart-warming at the same time.
Sala Garncarz was a Polish Jewish girl who survived the Holocaust--although most of her family and friends did not. What sets her apart from many Survivors, however, was the fact that she was able to save many of the letters, photos, post-cards, and documents she received--or journal-jottiings she wrote herself--in Nazi Slave-Labor Camps.
Few surviving Concentration-Camp internees emerged--when the Allies liberated them at the close of World War II--with anything but the striped prisoner's garb they were wearing.
Sala, however, found ways to conceal her growing trove of treasured memories of father, mother, and sisters, who were themselves eventually lost to her. She also saved cards and pictures from girl-friends--and a one-time beau--from her home-village and camps she worked in.
Her good-fortune was that Sala was an excellent seamstress. And in good health. Thus, she survived several camps. Initially, she was befriended by Ala Gertner, also an inmate, but obviously a woman of great heart and intelligence. Ala did not survive…
At the end of the war, the area where she was confined became cut off from the Nazis, with the onrush of the Soviet troops. So she was spared the last-minute executions the Nazis performed on thousands of KZ prisoners as the Russians advanced.
After the war, she married an American serviceman, who brought her back to Brooklyn as Mrs. Sala Kirschner. Where she preserved her trove of letters, pictures, and cards in a small & secret box.
Facing open-heart surgery, she finally revealed her treasures to her daughter, who later presented them to the New York Public Library--where some of the most affecting letter and cards, as well as photos and documents, are now on display.
One of the most impressive aspects of these testimonies to that terrible time is the Hope that infuses many of them. As Sala said herself: "The letters were the closest thing to my skin. Saving them was a reason to live!"
FRENCH BOOK ART/LIVRES D'ARTISTES:
[Closing 19 August 2006]
One of the most colorful book-exhibitions to be presented in the magisterial Gottesman Hall at the NYPL, on Fifth Avenue, is devoted to French Book Art. This is not the same thing as French art-books, however.
Apparently, it all began in Paris with the collaboration of Mallarmé & Manet: Stephane and Edouard. Not that French books had not had illustrations previously, but it was a New Idea for Poet & Painter to work together create a visually interactive work of text and art.
This impressive exhibition centers on 126 such books, devised between 1874 and 1999. But it also includes separate artworks by various artists, related to the finished books. There is also a section with powerful black & white photos of artists & authors.
Among the artist/designer talents on display are Pablo Picasso--of course, Joan Miró, Henri Matisse, René Magritte, Giorgio De Chirico, Fernand Léger, Hans Arp, Sonia Delaunay, Max Ernst, André Masson, Alberto Giacometti, Yves Tanguy, Marcel Duchamp, Wifredo Lam, and Jean Dubuffet, among others.
And among the French poets and authors are Paul Eluard, Guillaume Apollinaire, Alfred Jarry, André Gide, Tristan Tzara, Max Jacob, and André Breton.
For fairly obvious reasons, the collaborative-book artists will be better known to American visitors to this exhibition than will the French poets--poetry, especially Modern French Poetry, not being eminently collectible and wall-hanging-worthy.
Some of the books on display are art-objects in themselves, the covers becoming part of a quasi-sculptural Construction. In some cases, a page of text faces a brilliantly-colored image. In others, stark black vignettes face texts, or are even integrated with them.
Some authors and artists even made the choice and size of type-font part of the artistic-design. Some books are open to pages that have individual words artfully strewn about.
Understandably, the light-levels have to be low for most of the books on display. The portrait-photos are more brightly lit.
For generations, French books were bound with uncut pages. Even in the late 1950s, your scribe had to make his way through Gide & Genet with a paper-knife to cut the pages!
Some of the books on display are so large that no paper-knife could have done them justice. With books that had actual--not lithographic--artworks, or tipped-in illustrations, uncut pages would have been out of the question, of course.
The books on view are from the shelves of the NYPL, private-collectors, and the Bibliothèque littéraire Jacques Doucet in Paris. Yves Peyré, director of the latter library, has curated this show, with the assistance of H. George Fletcher of the NYPL.
At the press-preview, the point was made that such author/artist collaborations--although they seem to have begun in France--were not limited to French talents. In Germany, Austria, Switzerland, and even Czechoslovakia, Secessionists and Expressionists were trying their collective hands at such creations.
This work came to an abrupt end in German lands and most Occupied Nations when the Nazis were deciding what was Art--and what was Not.
Curiously, although some works were banned in Vichy France, author/artist collaborations continued.
This may have had something to do with the fact that Reichsmarschall Hermann Goering and Dr. Josef Goebbels were admirers of Modern Art--especially of French artists--and avidly collected privately artworks that the Nazis had denounced as Entartete Kunst, or Degenerate Art.
This fact also recalls John Malkovich's unfortunate & impulsive remark about the French, in the wake of 9/11: "Cheese-eating surrender-monkeys!" Pierre Laval and Marechal Petain made their deals with the Nazis, and Paris was permitted certain artistic-advantages…
Most Americans are now too young to remember what Vichy France meant to us during World War II. But bottled-water from the Springs of Vichy has not held its own against the waters of Evian!
At the New York Public Library:
Science, Industry & Business Library:
PLACES & SPACES: Mapping Science
[Closing 31 August 2006]
Some of the oddest maps you will ever see are now on view on Madison Avenue. The venue is the downstairs wall-exhibition-space of the NYPL's Science, Industry & Business Library. This show makes a nice tie-in with the recent re-opening of the handsomely restored Map Room in the Main Library.
In fact, some historic maps from that collection are displayed in the back of what used to be B. Altman's.
But the difference between Geographic-Maps and the new "Science-Maps" is quite striking, not least because the new maps are often so complicated they can hardly be read.
It may be a Fool's Errand to try to cram Metadatas onto a sheet of paper only two feet wide and a foot & a half high. Actually, some of the innovative maps make better decorations than they do repositories of valuable information or statistics.
Certainly, Marc Smith's Treemap View of 2004 Usenet Returnees is colorful and fascinating to look at, but almost impossible to decode. The US Patent Hierarchy is even more infinitesimally intricate. It looks like the circuitry of the world's largest digital thinking-machine.
The Skychart of New York City in April 2006 doesn't seem all that innovative, as star-maps have been available for a long time. Even Ancient Astronomers & Astrologers had mapped out the Constellations, after all. Including the Outlines of the Mythical Gods and Creatures for which they were named: Ursa Major, anyone?
We have had visual Flow-Charts, Ancestral-Family-Trees, Time-Lines, & Organizational-Hierarchies for a very long time now. And they were already non-geographic maps--long before Science Maps were proclaimed.
In any case, is it really necessary--or useful--to try to force tons of MegaData onto a small sheet of cardboard?
Go to 188 Madison Avenue, see for yourself, and Make Up Your Own Mind!
At the World Monument Fund Prince George Gallery:
[Closing 28 July 2006]
When Islam conquered Christian Byzantium in 1453--and continued its westward march into Eastern Europe, up to the gates of Vienna--it converted the great Christian churches into mosques. In Constantinople, the magnificent Hagia Sophia--the Holy Widsom--had its Christian iconography plastered over.
As did the much smaller, but no less beautiful, Church of St. Saviour in Chora, long ago outside the city walls, but today part of the greater city.
Today, the Ottoman Plaster has been stripped away from some of the most impressive Christian mosaics and paintings in both sanctuaries, both of which are now museums.
But they are--as are other former Christian sites in Turkey--endangered by the wear & tear of Time and the degradation of construction-materials. The World Monument Fund is concerned and is actively helping to preserve them.
Now, at the WMF's new Gallery at the Prince George--15 East 27th Street/between Fifth & Madison--handsome huge color-photos of Hagia Sophia, the Church of Christ of Chora, and sites in distant Cappadocia are on view.
These are the work of the brilliant Turkish photographer Ahmet Ertug. Not to be missed!
For those who want their own copies of Ertug's colorful images, the publishers Ertug & Kocabiyik have richly illustrated brochures at the Gallery, showing illustrations and covers for over twenty volumes they have published about Turkish arts, crafts, and history.
Their newly-published Sacred Art of Cappadocia contains some of the splendid photos currently on view at the WMF Gallery.
Personal Note: When I was teaching Classic Drama in Athens in the late 1950s--for American Military & Embassy personnel--I spent some weekends in Istanbul, photographing Hagia Sophia myself. As well as Topkapi, the Blue Mosque, and other landmarks.
Some years later, I made a special trip to Istanbul to photograph Christ in Chora. My 35mm slides & prints of St. Saviour are on a much smaller scale than Ertug's, but they are also impressive. I think.
As a member of the World Monument Fund, I've found it interesting that I have photographed some of the more-recently-announced WMF preservation-sites before they were recognized as Endangered Species.
The Art of Aminah Brenda Lynn Robinson
[Closing 14 August 2006]
Streets of Dakar, Senegal by Aminah Brenda Lynn Robinson
If you have admired the colorful quilts of some notable African-American artist-crafts-women, you will be absolutely amazed, overwhelmed even, at the quilt-like creations of Aminah Brenda Lynn Robinson. But these often extended collages of images, colors, fabrics, buttons, stones, leaves, bark, twigs, and other found-objects are more like celebrations of People, Places, & Powers than they are decorative artworks.
There are also on view at the Brooklyn Museum some amusingly devised figures--like Basket Woman--and complex abstract constructions, like Gift of Love. As a girl, growing up in a Federal project, Poindexter Village, in Columbus, OH, Aminah--the name given her by an Egyptian Holy Man on her journey to Africa--began to be aware of the possibilities of cast-offs and Nature's scraps.
She developed a special medium she calls Hogmawg, using mud, grease, dye, and glue, among other elements. Her complicated and always colorful visual meditations on Family and Ancestry she has given the name of RagGonNons.
In contrast to the almost cartoonish exuberance of many of her works in the current show, there are also sketches made in Africa and Israel that would do credit to Renaissance artists. Aminah Brenda Lynn Robinson is a woman/artist/philosopher with many sides and talents.
So it's a just & wonderful reward that the MacArthur Foundation has awarded her one of its so-called "Genius Grants." In the sum of $500,000. That can buy her thousands more buttons of all sizes!
WILLIAM WEGMAN: Funney/Strange
[Closing 28 May 2006]
Connector by William Wegman
William Wegman made Man Ray famous. His dog, Man Ray, that is. This sad-eyed, floppy-eared hound-dog is probably better-known to the American Public than his owner/photographer is. In many wryly comic poses, Man Ray and canine friends have graced many a calendar, available annually at your neighborhood Barnes & Noble bookstore.
But, as a young and emerging artist, Wegman didn't go to the dogs immediately. As the current show at the Brooklyn Museum makes abundantly clear, he began as an exponent of Conceptual Art and videos as art-forms.
There are, of course, some handsome, even thoughtful, dog-portraits on view. But much of the exhibition deals with other aspects of Wegman's sketching, painting, and videography.
Much of the non-canine artwork is darker than the Starring Dogs. And some of it is densely imagined and rendered. There are several large oils that seem inspired by tourist-souvenir postcards, expanding into interlocking vistas. These are both colorful and complicated.
In fact, after inspecting these, along with various collages and quasi-comic sketches & scenes, Complication seems a Wegman Hallmark. Unlike the usually bold simplicity of the Dog Photos…
Wegman's Collected Works will later travel to the Smithsonian and West Palm Beach: the Norton Museum. And will close at the Addison Gallery of American Art. Phillips Academy, Andover.
[Closing 11 June 2006]
What can be more Modern than Streamlined?
That's the question your scribe constantly asked in the more than a dozen years that he edited, wrote, and photographed the content of The Art Deco News and, later, The Modernist.
With the advent of so-called Post-Modernism, it soon became clear that a number of the leading Innovative Architects & Designers were essentially recycling Art Deco. Architect/designer Michael Graves took exception to that, pointing out that his inspiration for that famous Napa Valley Vineyard--Clos Pegas, was it?--was Renaissance Tuscan Architecture. In the event, the complex worked out with more than a whiff of Art Deco.
Of course, there are continuing arguments about the generic differences--if any--among Modern, Moderne, Modernisme, Art Deco, and Streamlined. Modernisme, which originated in the mid-19th century in Barcelona, has pride-of-place, but the wildly innovative designs of Antonio Guadi are more foliately-ornate than they are streamlined.
The design-survey now on view at the Bard Grad Center focuses on Streamlining, but many of the objects are Art Deco Icons.
The point-of-departure at Bard is the idea that 20th Century Scientific-Studies--Wind-Tunnels, anyone?--led to new designs, to reduce friction and increase the speed & efficiency of trains, ships, and automobiles.
A streamlined steam-iron obviously could not iron a shirt any faster than when its predecessor was more bulky & clunky. But, thrown across the kitchen in anger, it probably could have flown faster at its target!
The Bard galleries are intimate, not to say small, so Architecture and Locomotive-engines have to be represented in photos and design mock-ups.
Among the Deco Designers celebrated are Henry Dreyfuss, Walter Dorwin Teague, Norman Bel Geddes, & Raymond Loewy. For older visitors to the exhibition, a number of the objects on display will look like old friends, long forgotten, or stored in the attic--if they are not New Yorkers and actually have attics…
For younger viewers--and especially school-classes--with no memories of the 1930s and the Great Depression, it may be both interesting and informative to discover that Streamlined Design is still very much with us! Nike sneakers are cited!
Streamlined, it is suggested, spells Hope for the Future. Then and Now!
At the CUNY Grad Center Art Gallery:
The Early Moholy-Nagy Reconsidered
[Closed April 2006]
Sorry! Too late to do anything about… This interesting exposure of some early artworks & schematics of László Moholy-Nagy had all too short a run at the CUNY Graduate Center. For some, he is best-remembered at one of the outstanding artist/theorists at the Bauhaus in Dessau.
But his early development--initially as a struggling author & poet, before he became fascinated by painting & design--is in itself something of a chronicle of the emergence of new ideas in art, society, and politics in Hungary, after the dissolution of the Austro-Hungarian Empire at the close of the Great War.
Moholy-Nagy passed through Dada into Constructivism, on his way to achieving his own distinctive artistic-synthesis. He also passed from serving in the Imperial Army into a Hungarian Soviet government. After which he went to Vienna and onward to Berlin.
The brochure accompanying this compact exhibition offers an excellent survey of Moholy-Nagy's early career. It might be worth calling the Grad Center Art Gallery for a copy, if any remain. [Unfortunately, no address or phone-number is listed in the brochure. But the Gallery is located at 365 Fifth Avenue, NY 10016--the Old B. Altman Building!]
Your scribe's interest in LászlóMoholy-Nagy was sparked at UC/Berkeley, when Sybil Moholy-Nagy preached his Gospel to impressionable students.
The Spring International Art & Antiques Show 2006
Amid rumors that the Seventh Regiment Armory--at Park & 67thStreet--may be made into some kind of Performing Arts Center, the traditional art, antiques, and collectibles shows continue to fill the vast space that was originally designed for military-drills. Organized by such show-producers as Wendy's--not the fast-food folks--and Sanford Smith, they are a distinctive aspect of Cultural Life on the Upper East Side.
Manhattan does not need yet another large Complex of Theatres. What it needs are Audiences: Grey Panthers now fill most of the seats at Not-for-Profit venues. And really professional & provocative theatre, dance, and music productions would also be a welcome change from most of the routine-fare now on offer.
Actually, such handsome arts & antiques shows as the recent Spring International--show is an operative-word!--are a kind of theatre in themselves. And most of them are presented as benefits for various New York City charities. The International honored the Lenox Hill Neighborhood House.
In recent months, there seems to have been a reduction in the number of booths at various shows. Does this mean Collectors are being more cautious, with gas & fuel-prices continuing to rise?
At the recent Spring International, there were 54 art & antiques mini-boutiques. As usual, smaller booths ranged along the sides of the four walls of the Armory--with a spacious café-space, backed by ornamental painted panels--at the rear.
In many previous shows, by various producers, the central space has been crammed with three long rows of booths, with booths on each side of each row. Wendy's Lenox Hill International, however, had only two rows.
This permitted a number of exhibitors to create real decorated-interiors or quasi-rooms to show their often intriguing wares. And, instead of unbroken rows, these booths were set up as blocks, with three crossings along the way.
This spaciousness made many of the sites seem especially attractive. Notable was the lavishly furnished & decorated salon of the Paris-based house of Steinitz: Beautiful furniture, carpets, hangings, paintings, sculptures, and remarkable objects d'art! [16 Avenue Matignon & 9 rue du Cirque, Paris 75008: 33-1-42-89-4050.]
In another spacious booth--that of MS Rau of New Orleans--a venerable standing Polyphon Music-Box played huge metal disks for coins. There was also an antique slot-machine, its metals newly re-plated.
But the most fascinating object on view was an elaborately-inlaid desk, made for the House of Savoy. A hidden mini-cabinet with tiny drawers popped up from its writing-surface, while ornate moldings on its legs opened-up to reveal miniature mirrored shrines. Even its richly decorated chair concealed secret places!
Baltimore's 19th Century Shop--always on hand with extremely rare and handsomely-preserved books & manuscripts--was showcasing Shakespeare's Second Folio, complete with the Droeshout Engraving of the Bard.
Ceramic antiquities from Meso-America were presented by William Siegal Galleries, of Santa Fé. Joakim Von Ditmar--of Lidingö, Sweden--had several intriguing treasures, including very old portraits of the Hohenstaufen Holy Roman Emperor and Maria of Burgundy!
Other exhibitors included Waterhouse & Dodd, Boccara, Alan Chen Gallery, Galerie Dumonteil, Proarte of Miami, Sabbadini of Milan & NYC, Marks of London, and MS Rau of New Orleans!
34th Annual Kips Bay Decorator Show House
[Closing 23 May 2006]
Every Spring, Manhattan's leading Decorators & Designers take over an historic Upper East Side Town-house, each outfitting a room with his or her trademark "Look." Owners looking to sell their town-houses for more millions than they originally paid for them can profit from this, as their time-worn chambers will never have looked so good!
But when the show is over, even the new wall-papers come off the walls, the parquetry-flooring comes up, and even the specially-painted murals are removed. Most of the decorator-rooms are so striking, so splendid--and so crammed with artworks, antique & modern, that none of these treasures is going to be left behind for potential house-buyers.
This year, the mansion-of-choice belongs to Jacqui Safra & Jean Doumanian--Woody Allen's former film-producer. It is up for sale, and it has been empty for several seasons--unlived-in--so the decorators have had an easier task in making-over the many rooms.
Among the many top-talents on view are Mario Buatta, Richard Mishaan, Thom Filicia, Susan K. Guttfreund, Larry Laslo, Costas Kondylis, John Landrum Bryant, Charlotte Moss, & Barbara Ostrom.
The house is one of the widest of Manhattan townhouses, and its rooms are organized around a central stairwell--which is also variously decorated, floor-by-floor. Going from one magnificent chamber to another--even on the same floor--can be disorienting because each room is so distinctive!
The super-modern kitchen seems to be one of the largest in the house, with a smart stove-sink combo standing free in the light-flooded room that also can serve as a dining-room.
In one long and very chic modern bathroom, there is even a breakfast-table set for two near the sleek, smart water-closet. Unusual--and not very conducive to eating?
Another smaller bathroom has three separate plasma TV-screens vertically arranged on the narrow wall immediately facing the toilet. Unusual--and not very conducive to viewing?
The handsome and intricate wood-inlays on the doors and heating-cabinet in the entrance-foyer caught my attention. Were they made in Italy? Perhaps in Thailand?
No, indeed! They are made in the USA, but with Digital Imaging, no less! Red Branch Decorative Imaging can devise all manner of digital-prints for wood-veneers, canvas, plaster, papers, marble, glass, and ceramics. They also have on hand hundreds of different kinds of wood-veneers for elegant inlays. You can check them out on www.decorativeimaging.net
The town-house is at 4 East 75th Street, with an entry-fee of $30--to benefit the Kips Bay Boys & Girls Club. A worthy cause, as there are some ten Kips Bay centers in the Bronx, all offering valuable programs for youngsters…
Phone for Show House opening-times: 212-650-0381. If you plan to go, don't forget the Whitney Museum Biennial is also in the Neighborhood!
Gazing down at the infinitely tragic footprints of the pulverized Twin Towers, major American Architects and members of the Municipal Art Society of New York had at least one Ground Zero success to celebrate recently: the new Glass-Clad, Environmental Friendly & Blast-Resistant 7 World Trade Center!
It had just won the Best New Building Award in the 2005 competition for the Fifth Annual MASTERWORK AWARDS. [For some odd typographic reason, the first three letters of this title must be set in larger case than the remainder. This is obviously a Design-Decision!]
Although the prize-winners, fellow-architects & developers, and Muni Art members were only in the middle-range of floors in this sleek new glass-clad high-rise, the views down below, downtown, across the Hudson, and toward the East River are all striking.
What they will be like from the top floors--not yet accessible to the public--should be fabulous.
The downtown side of the 25th floor had been outfitted to give potential tenants an idea of how their suites of offices might look. The other three sides of the glass-walled, unfinished, wide open-space--around the central core of elevators, stairs, and services--also promised unparalleled views, as well as entire floors unobstructed by columns or other supports.
The May issue of Metropolis has two admiring reports on the design & construction of Number 7, detailing its innovative attributes!
At the entrance to the awards-area, photographs of the prize-winners were displayed on easels. Inside the furnished-area, there was a model of the Downtown Area, centered on Ground Zero, with models of what may one day rise alongside Number 7.
Chairman of the Awards Committee, Michael Arad--designer of the World Trade Center Memorial--spoke of the projects & plans underway. But several of the distinguished guests, looking at the forlorn wasteland below--with the subway-loop exposed--wondered aloud why it was taking so long to begin construction in the architectural void.
That neither Governor Pataki nor Mayor Bloomberg seemed to be able, thus far, to "make things happen," and that Larry Silverstein--the lease-holder & developer of the blasted site--has legal & legitimate concerns, is understood by everyone who is interested in creating an Architectural Phoenix--or two--rising from the literal ashes of the World Trade Center.
But who can really make all this happen? And, finally, when?
The answer came only a day or two after this was written: The Port Authority has finally made important concessions and commitments. And construction of the so-called Freedom Tower has commenced!
Those architects and critics who know something about Architectural Competitions were amazed and amused at the various imaginative Ground Zero Reconstruction Project-Models on view in the World Financial Center months ago.
It is almost a "given" of such contests that the Winning-Entry will not actually be built--or at least not as originally imagined by the winning-architect. But such Competition-Designs do provide a base from which other architects--sometimes less-innovative and better-connected politically--can extrapolate.
Daniel Libeskind's winning Fantasy-Tower--with its space-probing corner-spire--was both dramatic and impressive. But it seemed a structural-impossibility, given the high winds high-up downtown, powerful air-currents that are only increasing, thanks to Global Warming. [Dinner at Windows on the World often made some diners queasy, as they could feel the building slightly sway at that great height.]
Libeskind's fantastic Tower also seemed a renewed Challenge to Arab Terrorists--who had already attacked the WTC not once, but twice…
Don't forget: The replacement Tower has to be 1,776 feet high, to salute the inaugural year of The American Revolution. [Of course, an ingenious Numerologist might have pointed out that that Famous Date could have been memorialized by adding its four numbers, resulting in a compact structure some 21 feet high…]
What no one wants at Ground Zero is an Architectural Eyesore--or some High-Rise White-Elephants. Not to forget that Old Folk Wisdom: "People who live in glass-houses shouldn't throw stones." As for Number 7, however, its very special glass-exterior is designed to resist blast-effects and keep the interiors cool, among other important qualities. [Read Metropolis to find out more!]
Curiously, unless you know your way around Ground Zero, you might miss Number 7. It has, as yet, no Major Signage outside, except for a strange kind of sculpture of thin metal-plates on its cladding that suggests a Seven, if you look at it from far enough away. Your scribe/photographer was standing almost beneath it, unable to see it, until a doorman pointed it out.
Of course, this gleaming glass high-rise will soon become a beacon for tourists and environmentalists. But if you don't know your way around all those glass-windowed high-rises around Ground Zero, it may take a map to orient yourself…
One of the visual amenities of Number 7 is a long, low, free-standing wall, behind the reception-desk, that features a Jenny Holzer running-text in bright white lights. Instead of Holzer's customary provocative slogans and mottos, the texts are salutes to Manhattan & New York City, from Walt Whitman to E. B. White.
Its running-text is clearly visible from the outside of Number 7. This streams from right to left, possibly to confound future Arab Terrorists, who read Arabic cursive-script or print in the opposite direction.
Soon, a sculpture by Jeff Koons--or by those Italian craftsmen who actually fabricate many of his designs--will be mounted in the tiny park-space in front the building. This could irritate art-lovers, as well as infuriate Religious Jihadists… There is, after all, a Commandment against Graven Images!
In addition to the award for Number 7--Skidmore, Owings & Merrill, architects and Tishman Construction Corp. for developer Larry Silverstein--awards were also made in four other categories. Two of these were in the Downtown Area, as well.
The award for Best Privately-Owned Public-Space went to the handsome shining glass-box at 55 Water Street, designed by Roger Marvel Architects, with credits also to Ken Smith Landscape Architects.
Best Residential Restoration Award was given to Historic Front Street, South Street Seaport, Cook + Fox Architects. In the language of the award, this is a residential building "whose recent restoration captures the original qualities and complements the surrounding area."
[That's a matter of opinion, of course. Your photographer/scribe was once something of an expert on this historical area, having written a report--FISH & SHIPS--for publication in Landmarks-concerned journals. The long street-side of this structure looks more like the luxury decks of a Cruise-Liner, but then it is just across the street from the South Street Seaport docks.]
Awards judges included Aby Rosen, President of RFR Holding LLC; Christopher Sharples, Partner, Sharples, Holden Pasquarelli, and Annabelle Selldorf, Founding Partner of Selldorf Architects.
This panel also gave an award to The Top of the Rock, at Rockefeller Center, for the Outstanding Commercial Restoration Project. In the long roster of credits, the architects, Gabellini Sheppard Associates, stood out. The citation was for "a commercial building whose historic character has been recaptured while manifesting the highest standards of restoration."
[When your photographer/scribe was Editor of The Art Deco News, he devoted an entire issue to the Art Deco Architecture & Decoration of Rockefeller Center. This gave him a remarkable opportunity to inspect and photograph the Center from the basements to the summits. Unfortunately, he is no longer on Rock Center's Press-List, so he's never yet seen the reported marvels of Top of the Rock.]
Only one award was given beyond the Borough of Manhattan: The Gun Hill MTA Station, in the Bronx. It won in the NEIGHBORHOOD CATALYST category. The citation "recognizes a new or newly restored building that is spurring revitalization in the surrounding neighborhood." [If you have ever driven along Gun Hill Road, you may have some idea of the needs in this area…]
Architects of record are di Domenico + Partners, with other firms and names also honored. From the brochure-photo, it looks like a two-story brick and glass-windowed structure proudly standing beneath the Historic Elevated Tracks & station-platform.
[Your scribe was present at these awards--not only as a longtime Muni Art Society member--but also as a Nominator for the Society's annual Brendan Gill Award. As the founder/photographer of INFOTOGRAPHY, he plans to take the subway/elevated to record the Gun Hill Station both digitally and on film.]
The Muni Art Society's MASterworks Awards were sponsored by HELABA, Landesbank Hessen-Thüringen. As East German Thuringia was--before November 1989--only one state in a Warsaw Pact Nation, its state-bank has certainly come a long way since then. Maybe it already had branches in West Germany, in several of the various fractions of Historic Hesse, such as Hesse-Darmstadt?
[Your scribe's Berlin bank, in fact, was originally founded in Dresden, but--with the Communist Take-over of East Germany--in the West, The Dresdner Bank became one of the richest & most powerful of German banks.]
In fact, have you noticed how many new Manhattan construction-projects have been financed by major German banks? Apparently, they have money, metaphorically, to burn?
But whatever happened to the Grand Old Tradition of America & Americans financing their own projects, building their own buildings, and managing their own facilities? Where, how, and why did we begin to neglect doing these things for ourselves?
Of course, this has absolutely nothing to do with the White House-inspired decision to permit a Dubai firm to take over management/control of the Port Authority--which not only owns Ground Zero, but also LaGuardia and JFK Airports.
Actually, Dubai now boasts some of the most spectacular new buildings in the world. Some Arabs must be doing something right?
Maybe the Arab Emirates can rebuild the World Trade Center, if Locals cannot make up their minds what should be done and how and when?
Copyright © Glenn Loney 2006. No re-publication or broadcast use without proper credit of authorship. Suggested credit line: "Glenn Loney, Curator's Choice." Reproduction rights please contact: jslaff@nymuseums.com.
Return to Curator's Choice Table of Contents